March 30, 2015, the City of Saint-Hyacinthe officially launched its tender for the expansion of their biogas system.
The main additions are the five (5) LIPP digester 2000 m³ and two (2) bi-fuel boilers (biogas / natural gas). In addition, two existing digesters will be converted hydrolyzer for better degradation of organic matter and playability digesters.
April 9, 2015, the City presented at the 5th meeting of the Municipal Energy AQME its schedule step by step the last years and years to come for its proposed biogas. This timeline provides an understanding of the major stages of a project biogas which are carriers and dynamic projects, but that takes time and discipline.
In the end, this plant will be able to produce 13 million cubic meters of biogas per year. The sale of biomethane represents a potential income $ 2,500,000 / year and a fuel economy for the City of $ 300,000 / year.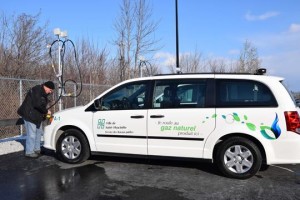 Source: www.aqme.org, www.seao.ca, www.novae.com