Description
Waga Energy, the leader in landfill gas upgrading into grid-compliant biomethane
Waga Energy has developed a breakthrough technology for upgrading landfill gas into grid-compliant biomethane (renewable natural gas). This technology is called WAGABOX®. The result of 10 years of R&D within the Air Liquide group and Waga Energy, the WAGABOX® technology combines membrane filtration and cryogenic distillation. It guarantees grid-compliant biomethane whatever the concentration of nitrogen and oxygen in the landfill gas.
Waga Energy deploys the WAGABOX® technology through an investor-operator model: the company finances, builds and operates WAGABOX® units under long-term contracts with waste management companies or municipalities for landfill gas supplying, and generates revenues by selling biomethane to energy utilities. This business model ensures optimal methane recovery and safe operations, with no technical or financial constraints for landfill operators.
Expertise
Waga Energy has all of the know-how to carry out landfill gas-to-biomethane project. By managing all aspects of the project, Waga Energy can get a WAGABOX® unit commissioned in 12 to 18 months.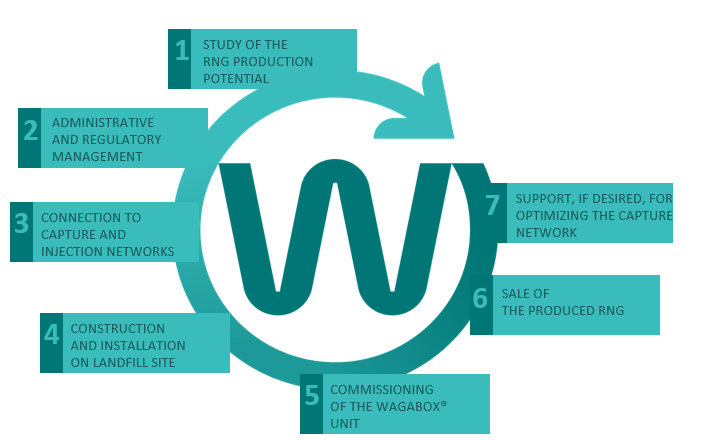 Waga Energy completes the technical, economic and regulatory feasibility studies required to implement the project.
Waga Energy designs a WAGABOX® unit adapted to the landfill gas flow rate and other characteristics.
Waga Energy finances the WAGABOX® units under a landfill gas-supply contract with landfill operators.
WAGABOX® units are built in France or Canada, to European or North American standards.
Waga Energy completes all the hookups on site connections (piping, instrumentation, water and electricity) and all pre-commissioning compliance testing to European or North American standards.
As the exclusive operator of the WAGABOX® units, Waga Energy provides 24/7 monitoring using a remote command-control system and guarantees uptime in excess of 95%.
Waga Energy markets biomethane and negotiates the best rates with energy providers.
The WAGABOX® solution offers many benefits to landfill operators:
Generates additional revenue
No constraints on landfill operation
Helps reduce odor nuisance
Does not require any investment.
References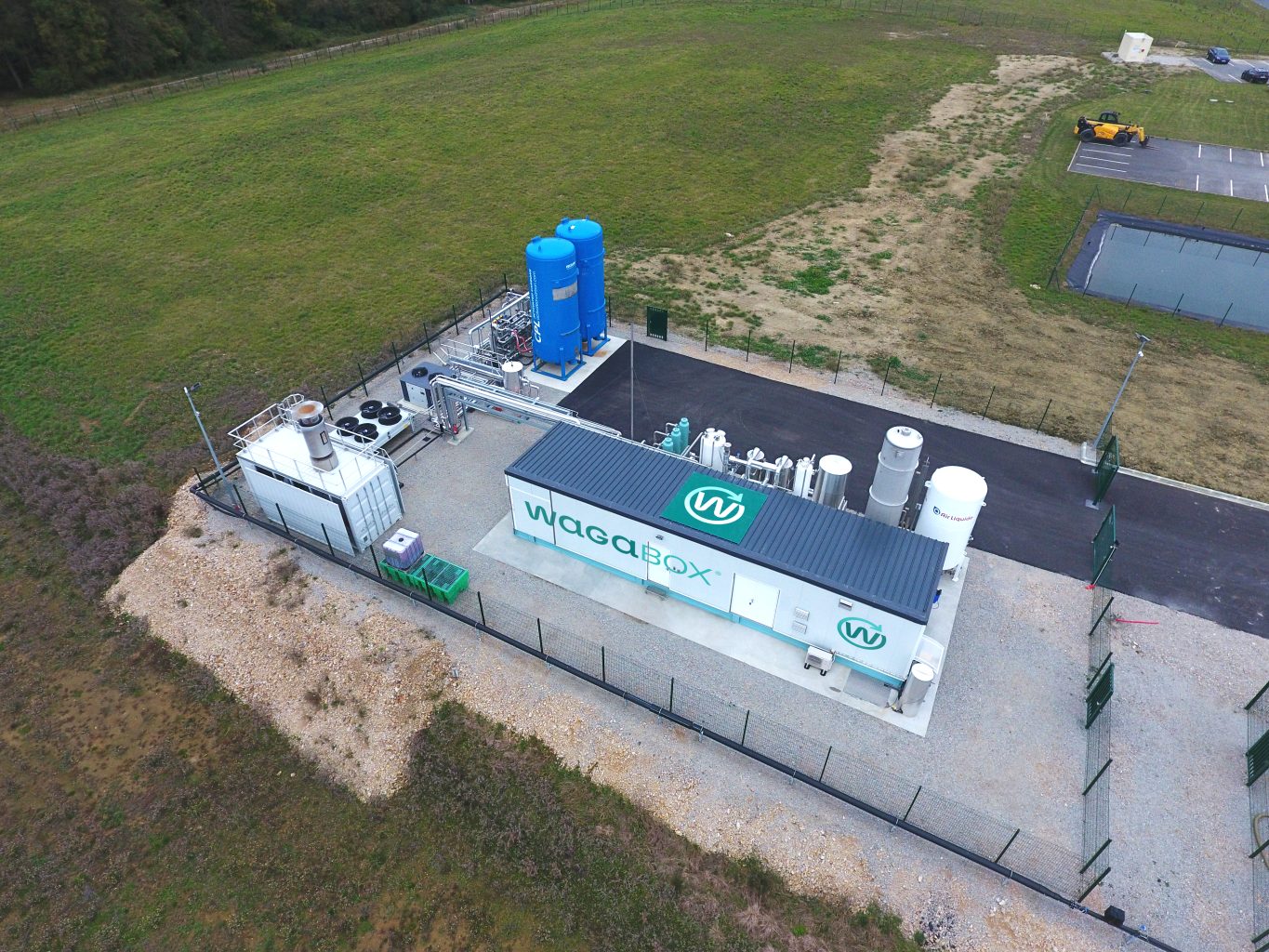 The first WAGABOX® unit was commissioned in February 2017 in France, on a landfill site operated by Coved-Paprec. The unit performed the first injection of landfill gas into the gas distribution network in Europe.
Four years later, Waga Energy operates ten units in France, on landfill sites operated by major industrial players (including Suez and Veolia) or by municipalities (such as the community of Lorient Agglomération). They supply 35,000 households and avoid the emission of 45,000 metric tons of CO2 per year into the atmosphere.
Five other units are under construction in France, Spain and Canada.
Check out our projects in operation ; Projects – Waga Energy (waga-energy.com)