Product Description
BAUER CONNECT: Remote Telemetry
BAUER CONNECT® is an app-based and internet based IoT solution that allows BAUER customers to remotely monitor the performance as well as control the entire BAUER system through any wireless mobile device or computer anywhere, anytime. The key features of this IoT solution, allow customers to increase efficiency and productivity, save time, do more with fewer resources, have lower operational costs and have total flexibility with a solution tailored specifically for them.
BAUER CONNECT® – Connection that matters.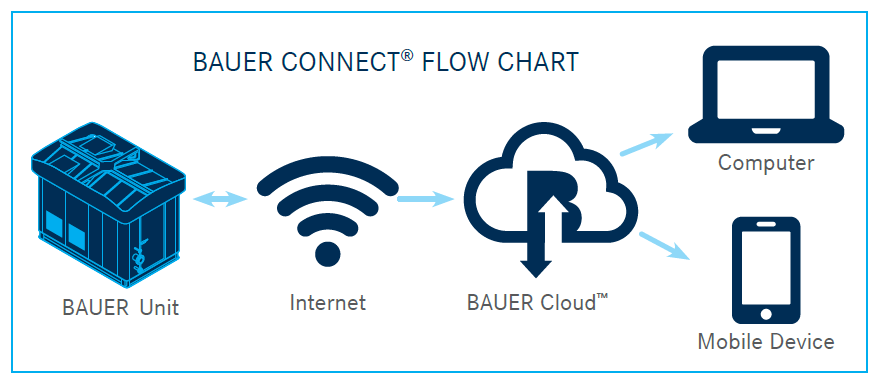 BAUER Remote HMI
The BAUER Remote HMI™ function allows factory-trained technical personnel to remotely control the BAUER system via the BAUER CONNECT® App with the same functionality as if one were standing in front of the actual unit.
Live connection and control of all units no matter the location(s)
Save time and money with remote monitoring
Secure log-ins – Only approved team members can access and control your compressor system
BAUER Reports
The BAUER Reports™ feature is a function that generates custom reports tailored to the specific needs of the customer. Customers can have access to historical data via a multitude of standard and customized reports.
Notifications
The BAUER CONNECT® Mobile App will send push notifications if certain critical parameters of the BAUER system fall outside of normal operating range or if triggered by a system alert. This assures that essential personnel is notified immediately, thus allowing for pro-active intervention in a situation that could potentially be detrimental to the BAUER system as well as the customer's operation.
Mobile Dashboards
BAUER CONNECT® App will also display a real-time graphical display of the entire system (SCADA view). The Mobile Dashboard feature provides information such as compressor system status, error log, critical pressures and temperatures, and volume of air dispensed in storage information, etc.
Quick reference of all of your units at your fingertips
Does not require password validation every time app is used
Beneficial tool, that allows for monitoring without the ability to control the unit(s)
Dashboards can be customized to specific customer needs
BAUER Predictive Analytics
This feature of BAUER CONNECT® provides a new pro-active dimension to perpetually maintaining customers' compressor systems at peak conditions with minimum downtime. BAUER's predictive analytics algorithm uses artificial intelligence to analyze the collected system information on the BAUER Cloud™ to predict upcoming maintenance requirements and preventative actions to avoid unplanned shutdowns.