In North America, landfills are getting increasingly saturated. Yet much of the residual waste ending up there can be recycled and processed. In the United States, 40% of the food produced is wasted (unconsumed and unprocessed).
In Canada, 44% of our residential waste is composed of organics. Yet the production of this waste can be reduced and this waste can be reused. Several measures have been proposed to recycle food, in order to banish them from landfills. In British Columbia, after implementing the organics collection service in 2013, organizations noticed a waste reduction of 44%. Hence, there is evidence that it is possible to ban them from landfills.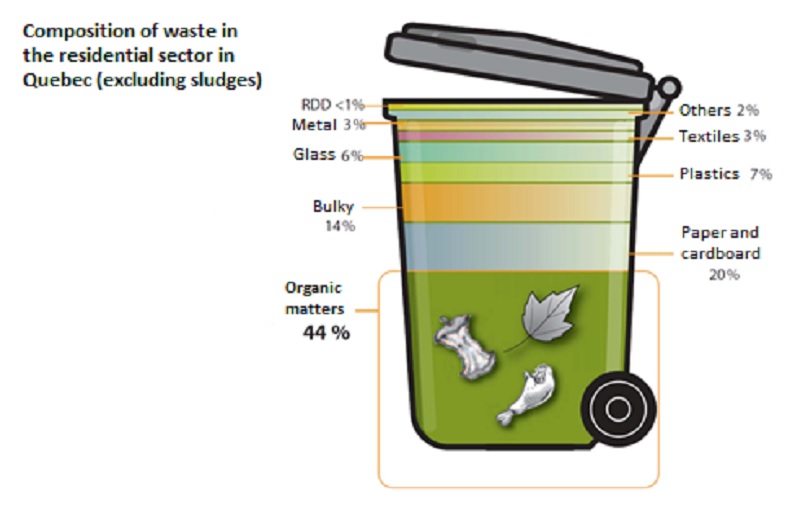 WHY BANISH LANDIFLLING ?
Recovering organics rather than burying them has several ecological and economic benefits. The reduction of putrescible waste reduces the level of greenhouse gas produced by landfills. In this sense, the lifetime of these sites is longer since less residual waste is deposited every day.
By transforming organics into energy (biogas), we reduce the use and dependence we have on fossil fuels. In addition, the processing of residual waste creates a reusable and marketable product, compost.
HOW TO BANISH LANDFILLING ?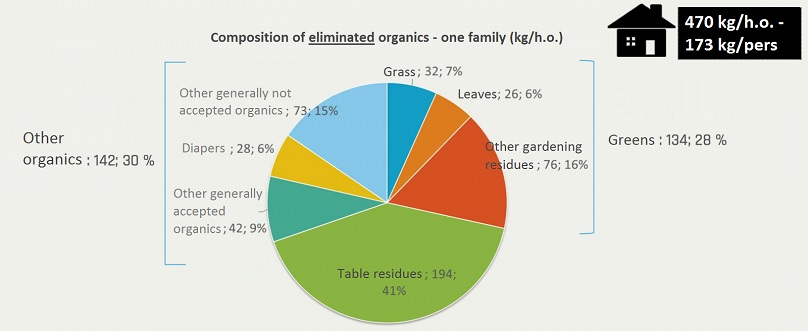 Here is what an average family produces in terms of organic waste.
Grass, leaves, garden residues in addition to table residues and several other organics are materials you can recycle. Only 4% of all organics are not accepted. You can help banish organics landfilling by reducing waste, re-using your food and placing your organics in the right trash bin.
Recyc-Québec has put in place ways to ban organics landfilling through 3 streams.
Reduce | The primary goal is to reduce food waste. This aspect encourages the use of all viable foods for consumption. In this sense, the consumption of all edible foods is valued via food banks.
Reuse | Secondly, unused food is used, for example, to feed the animals.
Recycle | The last possible destination of organics is recycling. These materials can be used in several ways such as herbicycling, spreading, composting, as well as biomethanization (biogas).
WHAT ARE THE MEANS PUT IN PLACE ?
In the United States, several states and municipalities have recently introduced laws and prohibitions on organic waste targeting their remaining useful potential. In Massachusetts, Recyclingworks has set up a program to create legislation, develop infrastructure, strengthen the vision and educate the public about the recycling of residual waste.
Havard Law School has established a Food Law and Policy Clinic (FLPC). They develop draft laws and recommendations for the banning of organics landfilling. For the complete recommendations, visit the BioCycle website.
After implementing their organic waste reduction program in 2013, British Columbia has seen a decline in food waste of 55,000 tonnes per year. They have assessed the composting and biomethanization capacity for 2017 at about 465 000 tonnes per year at their 3 transformation sites: Harvest Power, Envirosmart Organics and Surrey Biofuel.
In Quebec, Recyc-Québec's goal was to ban organic waste from landfills by 2020. Nonetheless, in September 2015, the government granted a three-year extension to municipalities until December 31, 2022.
WHAT ARE THE AVAILABLE RESOURCES ?
There are several organizations with the goal of banning landfilling. In the US, you will find a list of these organizations on the US EPA website.
In Canada, you can find biomethanization projects in operation and in development on the website of the Canadian Biogas Association. For Quebec, our main information resource is the website of Recyc-Québec.
Sources: Recyc-Québec, CET – Center of Eco-Technology, BioCycle, US EPA