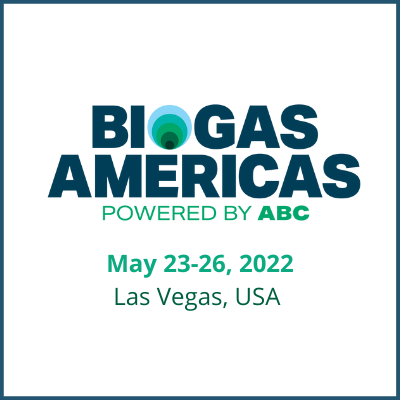 Biogas Americas 2022
Event Date

From 2022-05-23 to 2022-05-26
Event language
English
Biogas Americas is Coming to Las Vegas in May 2022
BIOGASWORLD SPECIAL OFFER
10% discount on booth registration part of BiogasWorld Pavilion
Description
Join the BiogasWorld Pavilion at Biogas Americas and save 10% on exhibitor costs
*Exclusive to BW members, 10 spots available. Log in to your dashboard for more information

BIOGAS AMERICAS, the largest conference and tradeshow for the US biogas industry, will take place in-person in 2022! Join us from Monday, May 23 through Thursday, May 26 at the Red Rock Casino Resort & Spa for an event focused on the networking, partnerships, information, training and solutions essential to fueling biogas production.
With over two dozen educational sessions, a comprehensive marketplace and an interactive environment, this collective gathering is the destination for everyone invested in the power of biogas.
Add it to your calenda
r now and start planning your participation today!
BIOGAS AMERICAS is the biggest gathering of the US biogas industry and the annual conference of the American Biogas Council. This is a "must attend" event for anyone in the business of biogas – a place to meet with like-minded professionals, leadership and decision makers across the industry. With a focus on growing the biogas market through informing, training and networking with potential clients, vendors and industry champions, being part of this event is not an expense, it's an investment.
BIOGAS AMERICAS is organized by the American Biogas Council – the only trade association championing the entire biogas industry, working across America to grow the biogas market for the benefit of everyone involved. Whether you are a project developer, equipment supplier, service provider, operator, investor, utility, policy-maker, or anyone whose success depends on the growth and profitability of biogas as a resource, there is no better way to build your business and stay informed of the latest developments in the industry