Description
Symbiont | Optimized for Biogas Projects
For over 35 years, Symbiont has been providing professional engineering, construction, and design-build services to private and public-sector clients. Our core business includes biogas, waste-to-energy, and construction projects.
Integrated project delivery of biogas projects across the U.S. is a hallmark of our business. Symbiont combines our team of engineers, scientists, and constructors with the owner's project team, synthesizing multiple perspectives to develop technological solutions that enable organizations to progress and realize their long-term business goals. For each project, Symbiont's approach is to be certain that it is sound from a process design perspective.
We are uniquely experienced in coordinating multi-stakeholder, multi-disciplinary projects. With a full in-house team of engineers and technicians, Symbiont provides all engineering services required to bring a project to completion.

Our Energy System Design & Construction Profile
Converting the energy stored in organic matter into clean, usable energy calls for ingenuity and vision. Integrated project delivery of biogas projects is a hallmark of Symbiont's business, including the following greenhouse gas (GHG) reduction technologies and biogas applications:
Manure to RNG
Natural gas pipeline injection
Electricity generation and CHP systems
RNG vehicle fuel
Source separated organics digestion to biogas
Municipal to digester biogas RNG/CRNG
Landfill gas to RNG
Agricultural waste management
Solid waste to refuse-derived fuel
High solids anaerobic composting
With over 95 renewable energy projects ranging in size from $1 to $50 million delivered via Progressive Design-Build, construction management at risk, and agency construction management, Symbiont is well versed in renewable energy processes, technology, and project implementation.
By leveraging the potential in organics, the energy systems we design and construct reduce GHGs and create alternative renewable energy sources. Symbiont's energy clients reap several benefits from these systems:
Decreased dependence on fossil-fuel energy
Decreased production of greenhouse gas emissions
Improved self-sufficiency and sustainability by extracting energy from effluents
Reduction in off-site hauling costs
Possibilities for expansion of renewable energy usage across the facility
Multiple revenue streams
Nutrient recovery options
Mapping a Path to RNG Project Completion
Defining all of the considerations inherent in developing a renewable natural gas project is the key to establishing a clear path from project initiation to project completion. At Symbiont, we work hand-in-hand to help define where in the development process we stand. With clarity on the top considerations for project development defined, we're able to map a successful path to energy production.
Common technologies which we evaluate to ensure maximum feasible energy production include:
Biogas blowers/compressors
Biogas cleaning
Combined boiler/heat exchangers
Internal combustion engines
Microturbines
Construction Management of Biogas Projects
With in-house construction management, Symbiont's clients reap the benefits of more efficient execution of the construction-related services (i.e., estimating, scheduling, and management of trade contractors). Excluding field personnel, all Symbiont construction and design professionals are located in Milwaukee, Wisconsin – enhancing communication and coordination of project teams. Our substantial experience managing these projects has enabled us to build an efficient and reliable construction management infrastructure of personnel and management tools.
To optimize project performance, Symbiont's RNG project team is continuously monitoring project quality, cost, and schedule. At the same time, our process engineers diligently monitor advances in process technologies and equipment to ensure that the systems Symbiont implements provide optimum value to its clients. In 2010, Symbiont developed a controls engineering discipline group to more efficiently program and start up systems.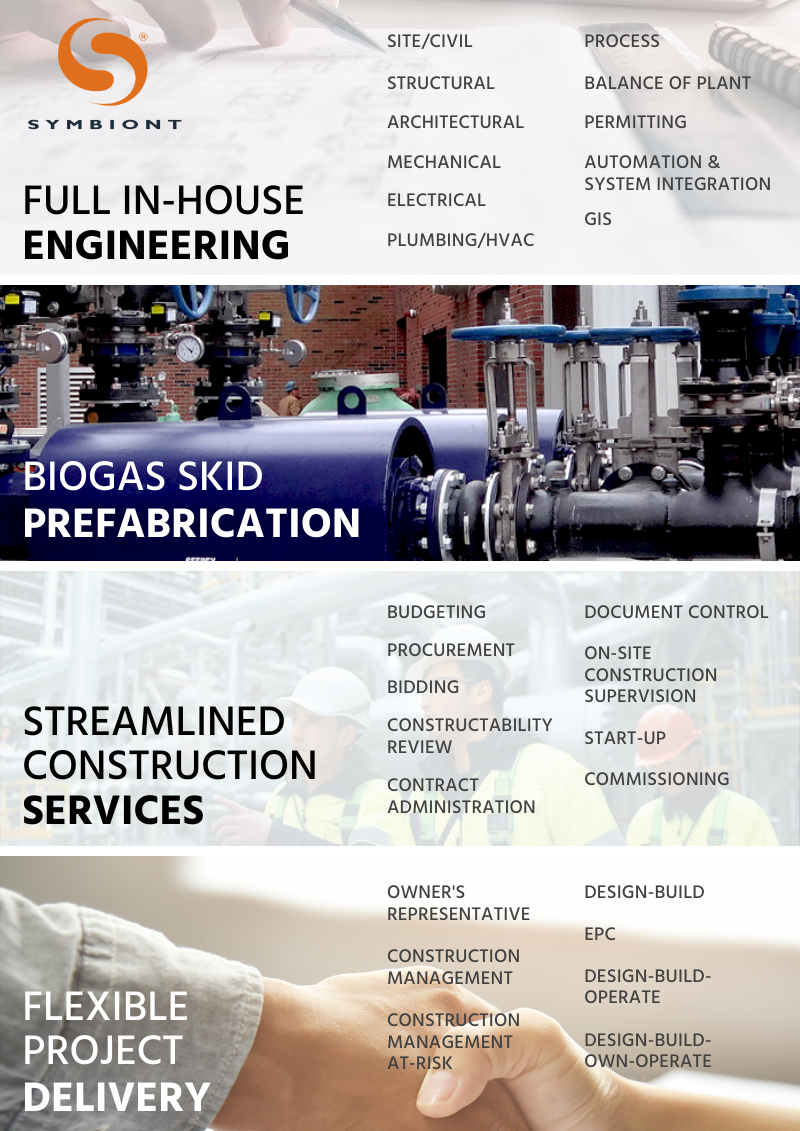 To read more and view some of our award-winning projects, visit Symbiont.