Keywords: biogas upgrading, biogas purification, biogas cleaning
Biogas is produced from the process of anaerobic digestion in which microorganisms break down biodegradable material in the absence of oxygen. Biogas is composed of the following elements: methane (CH4, 50 – 75%), carbon dioxide (CO2, 25 – 45%), water (H2O), nitrogen (N2), oxygen (O2 ), hydrogen sulfide (H2S), ammonia (NH3), and trace elements (organo-halogenated, siloxanes, etc.).
Biogas can be used for heating and power. When it is purified, biogas is transformed into "biomethane" or "BioGNV" and can be used for gas vehicles or injection into a natural gas network. To achieve the quality of natural gas (98 % of methane), we remove CO2, water and other compounds. The biomethane will then be in compliance with the BNQ 3672-100 standard.
Composition and standards

Biogas Purification Technologies
There are several technologies for cleaning biogas to natural gas quality:
Water scrubbing: process based on physical absorption employing water as a solvent for dissolving CO2. The reason why absorption in water is emplyed is that solubility of CO2 in water is many times higher than solubility of CH4 in water.
Chemical absorption: based on dissolving CO2 from biogas in a solvent. However, absorption is associated with chemical reaction (between CO2 and solvent).
Pressure Swing Adsorption or PSA: carbon dioxyde is separated using physical prperties. Biogas is upgraded using adsorbing material such as activated carbon or zeolites, which absorb carbon dioxide.
Membrane separation: membrane allows CO2 pass while retaining CH4.
Cryogenic separation: successive refrigeration to produce liquid CO2 and liquified biomethane (GST technique) or anti-sublimation of CO2 to produce liquid CO2 and biomethane gas.
Comparison of the different biogas ugrading technologies
Technical comparison
Table of characteristics for biogas purification processes: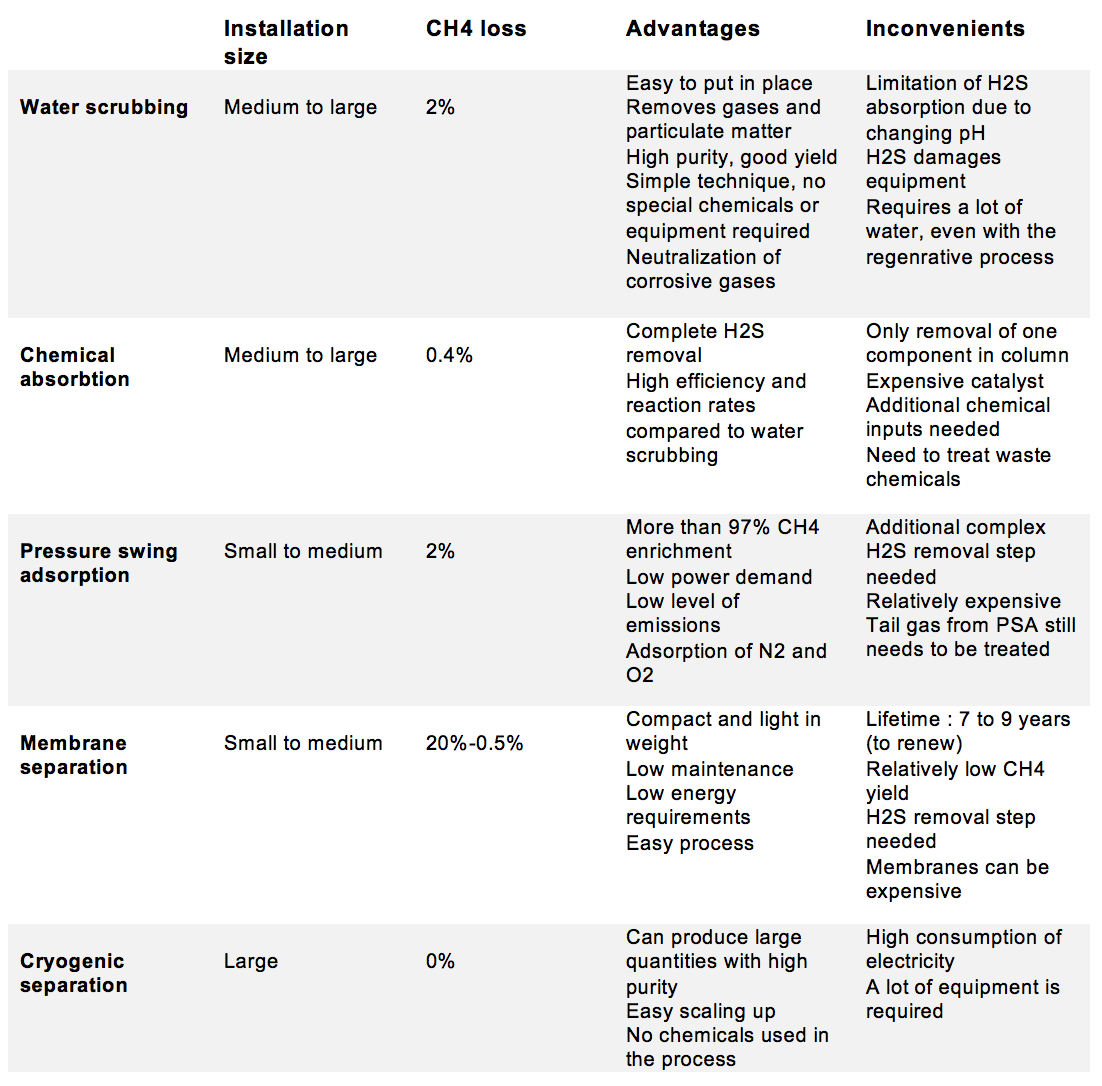 Source: Anaerobic Biotech. for Bioenergy Production – Biogas purification and utilization, MEBIG
Economic comparison
Table of economic comparison of different purification techniques: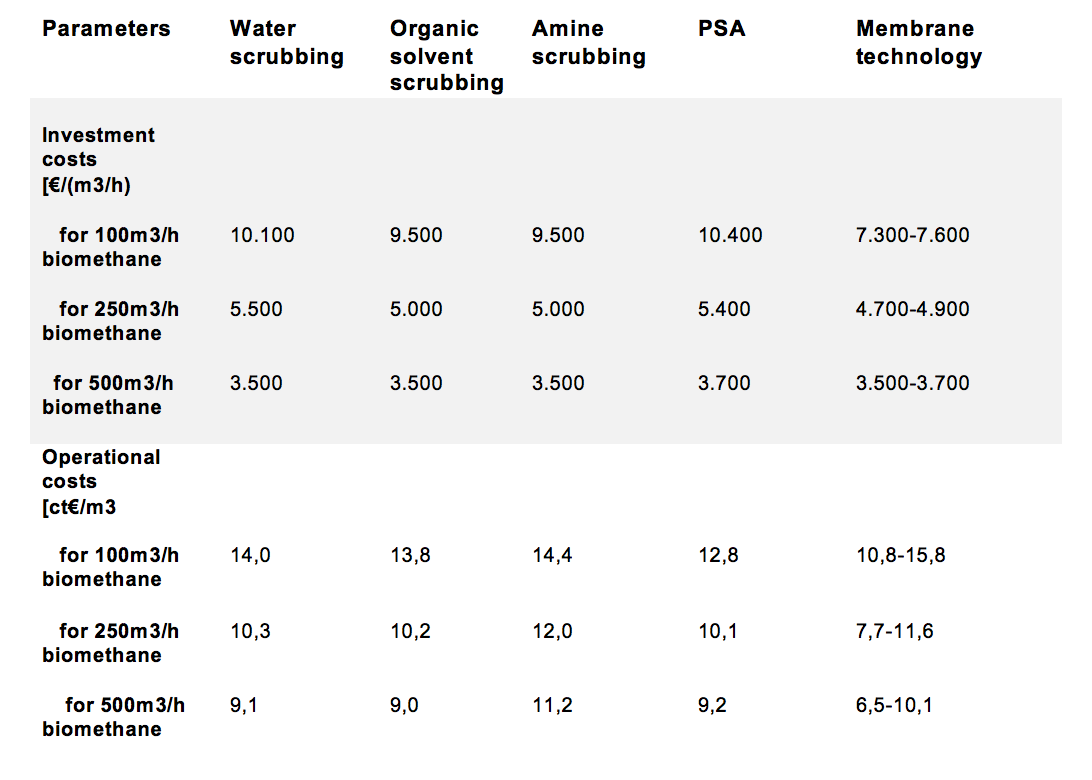 Source: Membrane Gas Separation Technologies for Biogas Upgrading, Chen and al. 2015
BiogasWorld's clients offering biogas purification systems
Waga Energy: WAGABOX®, a breakthrough technology for landfill gas recovery

Waga Energy is an innovative company specialized in landfill gas upgrading into grid-compliant biomethane (renewable natural gas). It was founded in 2015 by three former engineers from the Air Liquide group. The company is based in Meylan, near Grenoble, France — a world-renowned center for high-tech innovation with a reputation for leadership in gas engineering and cryogenics. Waga Energy also has subsidiaries in the United States and Canada.
As a result of ten years of development within the Air Liquide Group and Waga Energy, WAGABOX® is a breakthrough technology for landfill gas recovery. Combining membrane filtration and cryogenic distillation, it guarantees the production of high-quality biomethane (renewable natural gas) that can be injected directly into the natural gas distribution network, regardless of the oxygen and nitrogen concentration in the raw gas.
Read more about the Wagabox.
AB Bioch4nge®: Maximum Efficiency for Biogas-To-Biomethane Upgrading
Since 1981, AB has tackled the challenges posed by energy sustainability, working alongside our customers to improve their competitiveness while saving energy and reducing emissions. From our earliest days, we have focused on innovation to develop world-class technologies and processes dedicated to transforming the world of energy.
BIOCH4NGE® and AB's CH4LNGare systems created and manufactured by AB. They are the perfect biogas upgrades for producing biomethane from biogas, treatment, liquefaction and storage. Compact, modular and versatile, they requires short installation time and guarantees high performance.
Read more about the BIOCH4NGE® and the CH4LNG.
The Air Liquide Biogas Purification Systems: Gas separation Technology
With over 80 biogas sites worldwide and more than 100 years of experience in gas separation, Air Liquide is the world leader in biogas purification, with systems ranging from 70 SCFM to 12,000 SCFM. Technologies offered include both plants owned and operated by Air Liquide, the sale of membrane based processing units and peripheral equipment of compressors, hydrogen sulfide and VOC removal.
Air Liquide's Biogas Purification Systems' technology used to separate the two main components of biogas – methane and carbon dioxide – is based on the use of polymer membranes produced by Air Liquide Advanced Separations (ALaS). This efficient system generates biomethane with a methane (CH4) content of between 96.5% and 99%, depending on its purpose. With its technical solution for biogas purification, Air Liquide takes charge of every stage of processing, from when it leaves the digester until it is injected into the gas network.
Read more about the Air Liquide's Purification System.
Bright Renewables: Biogas Upgrading to Biomethane

Bright Renewables offers a well-proven system to upgrade biogas to a methane-rich product gas, also known as biomethane. By applying highly efficient membranes the separation of methane from biogas can reach an efficiency of more than 99.5% and render biomethane suitable for injection in the national grid or compression to CNG. Read more about our technology.
Bright Renewables systems are available in standard capacities from 40 Nm3/hr to 5,000 Nm3/hr. Other capacities are available on request. This makes Bright Renewables one of the few suppliers able to deliver the total range from small to large biogas upgrading installations.
Read more about the Bright Renewables' Biogas upgrading to biomethane.
BTS bioMETAN: Biogas upgrading

BTS Biogas (Biogas Technology Services), is an Italian based company, US owned, with more than 25 years of experience in the Biogas market worldwide. Our biological and technical know-how and the extensive experience in operation of biogas plants has led to the development of countless products and solutions that have become part of our complete customized solution for biogas and biomethane plants.
Biogas generated by BTS biogas power plants can be used not only to produce electricity, heat and cold but also biomethane. Through biogas upgrading (biogas processing), methane is separated from all other gases, chiefly CO2.
Read more about bioMETAN's Biogas upgrading.
DMT Clear Gas Solutions: Biogas Upgrading to green gas or vehicule fuel; Carborex MS
DMT's Carborex MS in Poundbury, UK, was the first commercial biogas upgrading system in the UK, and the first in Europe in 2012. DMT is now the largest producer of biogas upgrading facilities in the world with membrane technology. In 2016, we sold the biggest biogas upgrading plant in the USA. Biogas upgrading contributes to the creation of circular economies and energy independence.
One of the major product lines DMT Environmental Technology offers is the Carborex MS. The biogas upgrading process can be performed with the Carborex MS, which separates methane from carbon dioxide by the use of membrane technology. This process has the advantages that it is a dry process (no chemicals involved), it has low energy consumption and is easy to operate. The whole system is built on a skid or in a container which results in a low footprint and easy transportable system. It is therefore a clear cleantech solution with low operational costs (OPEX).
Read the press release DMT to supply the biogas upgrading technology in Hawaïi, or read more about DMT and Carborex MS here.
Evonik: Membrane Separation System
Evonik has developed an innovative membrane technology for upgrading biogas into biomethane. With SEPURAN® Green membranes, biomethane yields of above 99% can be achieved.
SEPURAN® Green membranes have the highest CO2/CH4 selectivity and are therefore a superior technology for upgrading biogas. This selectivity of the membranes enables the production of high purity biomethane with superior methane recovery. This distinguishes the Evonik membranes from other membranes that are available.
Read more about Evonik's Membranes.
Greenlane Biogas: Membrane & Pressure Swing Adsorption

Greelane Biogas' membrane is a newer and fast developing method of upgrading biogas where straw like fibres separate carbon dioxide (CO2) and other compounds from methane (CH4) using the principle of permeation. This process delivers a high methane yield of up to 99%. Membrane designs are best suited to small to medium sized projects where CAPEX is considered most important, compared to long-term lifecycle costs.
Their Pressure Swing Adsorption (PSA) is an effective method of gas separation, particularly where a complex mixture of gases are generated from the feedstock, or where there is high humidity – such as landfill sites. Under high pressure, different gases are attracted to different solid surfaces, or "adsorbed". The higher the pressure, the more gas is adsorbed; when the pressure is reduced, the gas is released, or desorbed.
Read more about Greenlane Biogas' Membrane and their Pressure Swing Adsorption (PSA).
Hydron Energy: Biogas Upgrading

Hydron Energy is helping hard-to-decarbonize sectors, such as transportation, meet future energy demands and net-zero goals. By slashing both operating and capital costs for upgrading biogas to RNG, the INTRUPTor reduces RNG production costs to align with natural gas.
Offered by BIOFerm, COCCUS® is a complete mix anaerobic digester that is operated at the mesophilic temperature range. It is designed for input materials with a low solids content (between 8 – 12%). The tank is a reinforced concrete design with 2 or 3 large REMEX® paddle mixers. The drive motor of the mixer is mounted on the outside wall of COCCUS® so that only the polyamide bearings are located inside the fermenter. The tank is heated through hydronic heating installed onto the interior tank wall. Biological desulfurization is integrated into the wooden roof structure of the gas storage which provides for a cost effective removal of a large part of the hydrogen sulfide.
Read more about the COCCUS Anaerobic Digester.
Pentair: Our Membrane Technology
Pentair designs, builds, installs, and services end-to-end membrane-based biogas upgrading solutions that produce biomethane and cryogenic and amine-based CO2 systems that capture and recover CO2.
The membranes are pressure-driven, so the higher the pressure, the more CO2 will pass through the membrane surface. The discharge from the membrane (the retentate) contains mainly CH4, as the CO2 has been pushed through the membrane surface. The CO2-rich gas will leave the membrane on the low-pressure side of the membrane (permeate).
Read more about Pentair's Biogas Upgrading technology.
Prodeval's Valopur: Membrane Biogas Upgrading

PRODEVAL, company founded in 1990, is specialized in the treatment and Biogas upgrading from the methanization of organic waste. The company has developed its technologies for RNG production, Bio-CO2 valorization, and BioCNG production and distribution.
After the digester and pretreatment process, the compressed gas undergoes further filtration within the VALOPUR unit. This is a compact unit housed within a pre-equipped container and composed of three stages of membranes which separate CO2 from CH4 (patented EVONIK process).
Read more about the Valopur.
Ube Co₂ Separator for Biogas Upgrading

UBE Corporation is a Japanese business group with more than 120 years of history. UBE is one of the world´s leading supplier of gas separation membranes with more than 35 years of experience in providing high-performance membranes for several applications. UBE CO2 Separator purifies the biogas, converting it into Biomethane (CH4) and efficiently collecting CO₂.
UBE is constantly updating this technology and its main advantage is the high resistance to H2S, operating up to 30.000ppmv concentrations in inlet gas to membranes without damaging the material. The high chemical, thermal and mechanic resistances of UBE polyimide hollow fiber membrane also guarantee a long life. The excellent permeability and selectivity guarantee to UBE CO2 Separator a compact process with low CAPEX and OPEX.
Read more about UBE CO2 Separator for Biogas Upgrading.
Veolia's Memgas: The Ultimate Valorisation From Biogas to Biomethane
Veolia helps communities and industry ensure energy and water reliability, meet regulatory requirements and safeguard public health, all while protecting our natural resources. We introduce renewable energy sources and alternative fuels into the energy mix where it is viable.
The MemGas membrane technology purifies raw biogas into suitable biomethane (>97-99 % methane) to meet the requirements of its final use. However, in order to be transformed into biomethane, a thorough purification of the biogas is necessary.
Read more about the MemGas.
BGasTech: Biogas & Gases Dryer
Biogas & Gases Technologies is an engineering company that develops projects on gas treatment that includes biogas, biomethane production, gasification gas, pyrolysis and atmospheric deodorization.
BTS-Dryer is modular equipment for biogas and gas drying useful for when the biogas goes to be used for energy production (steam or electricity) and both the biogas flow and is temperature is low. One of its features is the high yield of water vapor removal and which can be adapted to H2S removal as well.
Read more about BTS-Dryer.
GAZPACK: Sulaway Unit

Gazpack is a company founded in 2006 which manufactures fully customer-specific installations for cleaning oil gas and biogas. With the patented Sulaway® desulphurization method we are able to convert raw biogas into several usable products with no waste.
The Gazpack Sulaway® system can be applied in various gas streams and processes. Due to the modular building configuration and custom engineering, the Gazpack Sulaway® system can be integrated into any existing facilities and manufactured according client requirements. Our experience in both oil and gas industry as well as the agricultural sector allows us to build the best suitable installation for the required application. Our system can be purchased directly or leased.
Read more about GAZPACK's Sulaway Unit.
GraniteFuel Engineering: CO2 / CH4 Separation
At GraniteFuel, our team are experts in every stage of biogas upgrading, offering both complete integrated systems and individual custom-engineered solutions to clients across North America. We specialize in the design, engineering and manufacture of biogas upgrading technology for wastewater treatment plants (WWTP), landfills and agricultural waste.
Biogas upgrading involves passing the gas through a CO2/CH4 separation system to filter out the carbon dioxide, leaving very pure biomethane. The high-grade biomethane generated is suitable for pipeline injection, RNG (renewable natural gas) or CNG (compressed natural gas). In the skid, the biogas passes through specialized membranes, which separate the carbon dioxide and methane to ensure the end product meets the required specifications. By choosing membranes with high selectivity rates, we are able to achieve an impressive 99.5% methane retrieval efficiency.
Read more about GraniteFuel's CO2/CH4 Separation System.
Nacelle: Biogas Upgrading Equipment

Nacelle has designed, commissioned, and operated multiple biogas upgrading systems throughout the United States encompassing a variety of flow rates for gas produced from both anerobic digestors and landfills. We offer individually tailored Biogas Upgrading systems for our customers based on our experience that incorporates the specific attributes and needs of the project.
Nacelle's Biogas upgrading systems separate carbon dioxide (CO2) from methane (CH4) while removing H2S, H2O, VOCs, and all unwanted elements/contaminants resulting in pipeline quality, ready to use RNG.
Read more about the Nacelle's Biogas Upgrading Equipment.
Unison: Biogas Upgrading

Unison Solutions, Inc., founded in 2000, is an industry leader in biogas conditioning, biogas upgrading, BioCNG vehicle fuel systems and distributed generation. Unison systems have been installed around the world at landfills, wastewater treatment facilities (WWTF), dairies and food processing digester plants.
Our patented BioCNG biogas upgrading systems use membrane technology to produce renewable natural gas (RNG). Any source of biogas is suitable for use in our systems which can produce both pipeline quality and direct vehicle fuel RNG. Our upgrading system removes moisture and particulates from the gas, while the selective multi-stage membrane system reduces carbon dioxide. The final renewable natural gas quality has a methane content of 98% or higher and less than 2% carbon dioxide. Depending on inlet gas quality, removal of hydrogen sulfide and siloxanes may also be necessary.
Read more about Unison's Biogas Upgrading.
All Companies are Available in Upgrading
To find more companies and products in biogas upgrading, visit the Products section of our website.
Add your company for free in our catalog!
BiogasWorld is growing and we are inviting you to grow with us. Add your company and Add your product for free and receive messages from your potential clients via our platform.
____________________________
Sources