Description
World's Leader in High Technologies for the Gas Field
For more than 50 years, innovation has been at the heart of the business at Air Liquide advanced Technologies. Squarely focused on the future, we strive to develop the savoir-faire of Air Liquide, the world leader in gases, technologies, and services for Industry and Health, in highly technology areas. Specialized in extreme cryogenics and gas engineering, we offer novel and competitive solutions for our customers.
Expertise at the service of advanced technology fields 
We approach each project globally, combining advice, solutions design, related services, and risk control. Thanks to our global presence, we can be closer to our customers, which allows us to anticipate and respond as quickly as possible to their needs.
Air Liquide is:
700 employees
16 test areas
+ 50 years of technical, industrial and commercial expertise
A Leading Expertise in the Industry
Air Liquide advanced Technologies is recognized for its leading expertise in :
gas separation
gas refrigeration at very low temperature and liquefaction
gas analysis and quality control
gas treatment
gas storage and distribution
Our 5 Key Markets
Design and fabrication of cryogenic equipment for launchers, orbital systems, and launch pads.
Development of systems for generating and storing embarked gases.
Development of systems for generating and storage onboard gases.
Design and fabrication of cryogenic equipment for laboratories, research centers and R&D departments in industry.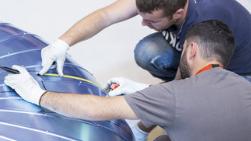 Industry
Development of systems for the production and analysis of pure gases, the treatment of gaseous effluents, and temperature regulation.
Our Services
Air Liquide offers after-sale and other services, including: