Product Description
LNG Plants – Mini Scale Liquefaction Technology
Mixed Refrigerant (MR) Process: The Perfect Solution for Biogas Liquefaction
Wärtsilä offers the energy efficient Mixed Refrigerant (MR) liquefaction technology for low liquefaction capacities. Together with our fast track engineering model, this technology results in low investment costs and short manufacturing time.
The liquefier system uses mixed refrigerant technology, where one single MR compressor and one aluminum plate-fin heat exchanger (PFX) are the main components in the system. A standard chiller (pre-cooling unit) is incorporated to improve energy efficiency and to ensure stable operation of the MR process.
Wärtsilä provides the basic complete process package, to which can be added civil engineering and construction services. The complete plant can also be supplied as an EPC delivery. Once installed, Wärtsilä further offers Operation & Maintenance agreements that are tailored to the customer's specific needs.
Key Benefits
Key advantages of the Mixed Refrigerant technology include:
Low power consumption – reducing OPEX
All components are conventional and of robust technology – reducing CAPEX
Designed for unmanned operation
Local control of LNG export – truck driver can load without assistance from main control room
Robust main rotating machinery with high efficiency – oil flooded screw compressor
Simple energy supply, only electric power source needed
Easy start up and shut down of all systems
Short delivery time
Easy shipment
Plug and play philosophy, skid based – relocation possible.
Applications
The Mixed Refrigerant technology can be used with a variety of small gas sources:
Biogas
Coal bed methane – CBM
Pipeline gas
Flare gas recovery
Landfill gas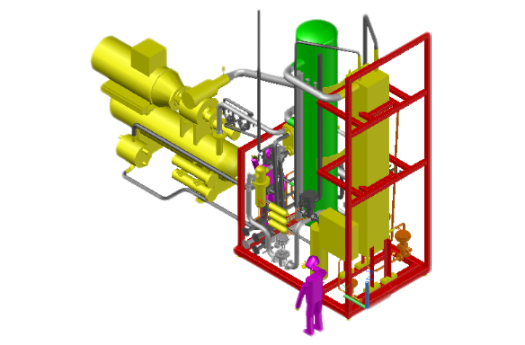 Each type of gas needs to be cleaned to achieve low water content (1 ppm), and low amounts of CO2 (<50 ppm) and H2S (< 4ppm). Gas cleaning systems can also be delivered by Wärtsilä upon request.
The biogas liquefaction plant pictured beside was delivered to the municipality of Oslo. For this plant, Wärtsilä also delivered a mole sieve adsorption system for CO2 (2-subscript not superscript) cleaning stage.
To know all the details and technical specifications about Wärtsilä's Mixed Refrigerant (MR) Liquefaction technology, please visit the Wärtsilä website or download the LNG Plants Brochure.