Product Description
An Advanced Technology for Gas Scrubbing, Dust and Aerosol
System REITHER™ is a caustic venturi scrubber, which offers a small footprint, high efficiency, high reliability, and an adjustable throat to accommodate varying gas flow loading. Featuring a simple and compact design, System REITHER™ is easy to control and maintain, providing a reliable, cost effective H2S solution for landfill gas, biogas and other manufacturing operations.
System REITHER® is both more compact and more efficient than conventional venturi scrubbers. Removal efficiencies of greater than 99% are achievable on particulates and gases. Due to the simple yet robust design, System REITHER® is an obvious choice when dealing with explosive, adhesive, toxic or corrosive compounds.
System REITHER® venturi scrubbers are also superior in particle collection processes, delivering a performance that surpasses any wet scrubbing system, due to the velocity and shear force generated by the venturi throat. With an excellent and intimate contact between the gas and the liquid, the venturi scrubber can also combine dust abatement and gas absorption in one single stage. The REITHER® technology combines the quench, scrubber and dust collector functions while many processes individually address each challenge with different equipment.
Advantages of System REITHER™ in a glimpse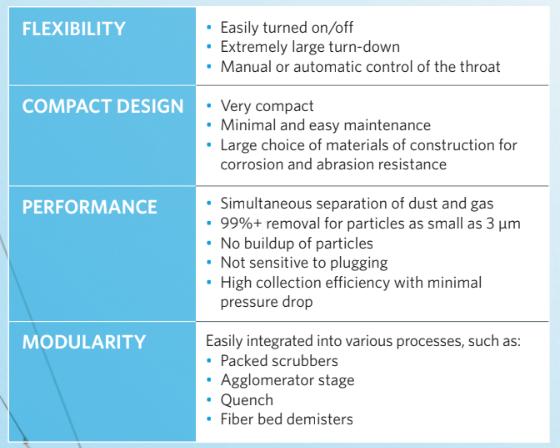 Applications
Typical Pollutants
Acid mists (HCl, H2SO4, SO3, H3PO4, etc.)
Gases (H2S, SO2, Cl2 NH3, HBr, etc.)
Ultrafine dusts (flue dust, smoke, coal, metals, colour pigments, silicates, etc.)
Odours
Metal oxides (copper, zinc, lead, selenium, etc.)
Salt aerosols (NH4Cl, NH4F, etc.)
Aluminum chloride, Cl2 (foundries)
We apply our experience to achieve excellence in designing, building and installing advanced control technologies for:
Biogas and Landfill Gas
Chemical Manufacturing
Pulp and Paper
Metal Smelting
Textiles
Metal Finishing and Plating
Incineration / Boiler Flue Gas
Electronic Equipment Manufacturing
Petrochemical Refining
Iron and Steel
Food and Beverage
Drum Filling Operations
Paint and Coatings
Pharmaceutical Manufacturing
Drying Systems
Fertilizer Production