Product Description
Watson Marlow Qdos Peristaltic Metering Pumps: Accurate, versatile chemical pumps
A world leader in the research and development of peristaltic tube pumps, Watson-Marlow Qdos peristaltic pumps are now used in precision dosing and transfer of polymers, chemicals, dyes and sulfates. Applications can be found in water and wastewater treatment, as well as odor processing and the pulp and paper, chemical and food industry. The tubes developed over time by Watson-Marlow now offer the widest range of tubing in the industry.
Advantages at a glimpse
Cut chemical cost through higher accuracy metering
Simple drop-in installation eliminates ancillary equipment
Reduced maintenance with single, no-tools, component replacement
Range expanded to include Qdos 120. Flow rates from 0.1 to 2,000 ml/min (0.001 to 32 USGPH) at up to 7 bar (100psi)
Total cost of ownership is less than a diaphragm pump
Maintenance downtime cut from 1.5 hours to just 5 minutes
Rare mineral recovery process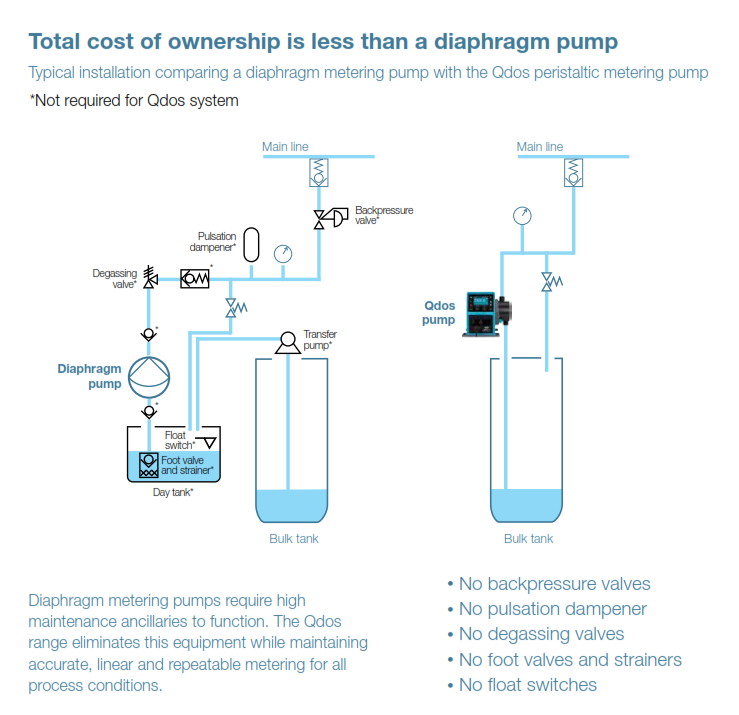 Features of the Qdos products
Simplicity in installation, operation and maintenance were key considerations when designing the Qdos range of pumps.
An intuitive menu offers advanced control features including:
Fluid level monitoring
Line priming
Flow calibration
The 3.5″ TFT colour display provides instant pump status, and can be configured to display in 7 different languages. Qdos pumps can be ordered with the ReNu pumphead mounted on the left or right of the pump. The keypad, display and input/output connections are readily accessible for easy operation and
maintenance. All models are IP66 (NEMA 4X) rated for use in washdown environments.