Product Description
The Wangen Xpress Pump
The Xpress pump range has been specially developed for easy maintenance and to considerably shorten the servicing time and thus reduce costs. Reliable pumping of media, along with fast rotor/stator changes are ensured by the X-LIFT quick change system developed by WANGEN PUMPEN. The X-LIFT flange is constructed on standard flange design principles.
The Wangen Xpress Pump can address your needs for loading the separators in the rigorous operation of your biogas plant.
Loading the Separators
WANGEN pumps perform special tasks in biogas plants such as loading the separators for separating solid and liquid phases.
Conveying the substrates with their mostly high dry substance contents (DS) requires sophisticated pump technology. Optimum pumping results are guaranteed by the flow-optimized suction housing and a constant joint diameter which prevents the plaiting of long fibers.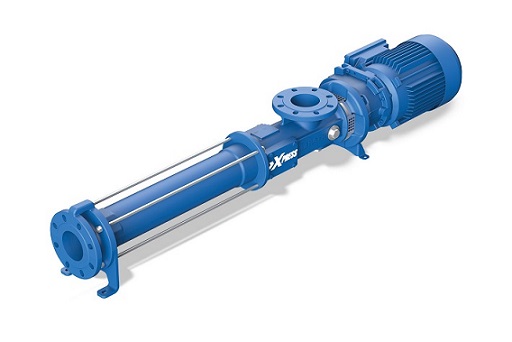 Specifications of the Wangen Xpress
Performance Data
Flowrate: up to 56 m³/h / 246.6 gpm
Maximum differential pressure: 6 bar / 87.02 psi
Temperature: max. +60°C / 140 °F
Viscosity: up to 20.000 mPas
Dry Substance Content: max. 8%

Benefits and Characteristics
The pump remains in the system when changing rotor/stator, thus considerably reducing the amount of installation work
Changing the complete drive section of the WANGEN Xpress can be carried out using 4 standard tools, quickly and easily
Quick change of shaft seal
Excellent price/performance ratio
Low Life Cycle Costs
Low servicing costs
Fields of Application 
filling
transfer pumping
feeding
Suitable for the following media
bentonite
bilge water
flocculants
electroplating sludge
bovine manure
raw water
thin, excess and digested sludge
lime milk
Household and industrial waste water
fermentation residues
dispersion paint
fermenter digestate
press water from separator
Cleaning and washing water from agricultural processes
Cleaning water from milking parlor
activated sludge
organic recirculates
paint and lacquer sludge
oil and bituminous emulsions
flotation sludges
binders of the wood- and paperindustry
secondary fibers
household and industrial waste water with neutral pH
lubricants and coolants with neutral pH
grease separation
rinsing mud
Technology/Details
Fully developed, robust universal joint
Service-proven sealing systems