Product Description
Krieg & Fischer Ingenieure GmbH: Your Trusted Partner for Industrial Biogas Plants
Industrial biogas plants in various industrial sectors offer opportunity to shift from fossil fuels, reduce carbon emissions production and increase profitability.
If your company is committed to green energy, decarbonization, sustainability and circular economy, biogas plant can contribute to reaching these goals. Through different schemes for green energy, biogas plant also guarantees stable market for by-products and creates value from other waste streams in production chain.
The design and planning of biogas plants for the fermentation of organic industrial residues is the core competence of Krieg & Fischer Ingenieure GmbH. In order to achieve this goal, the system must run day and night, with the investment costs possibly amounting to several million euros. Depending on the input material, the pretreatment method also needs to be planned by engineers. Moreover the retention time varies, depending on the type of input material and pretreatment. This time, in turn, has a direct impact on the digester volume.
In principle, planning or constructing this kind of industrial biogas plant requires the assistance of an experienced team of experts. Krieg & Fischer Ingenieure can offer you many years of extensive experience in the planning and construction of such plants.
Substrates
In industrial biogas plants, industrial residues are used as a source of energy. Our experience includes processing of different substrates such as residues from the food industry, slaughterhouse waste, fats, glycerin, market waste, crop residues, potato pulp, beer and vine residues, waste from sugar and ethanol industry.
Revenue from operating a plant can be increased in two ways: firstly, by taking these substrates from those who are looking to get rid of them and secondly, through increased biogas production. Where possible, liquid manure is added as a basic substrate. Plants connected to an industrial operation are often designed for exclusively utilizing the substrates generated.
Biogas
The biogas produced is collected in gas holders. These are usually constructed in the form of a double-membrane gas holder roof on the secondary digesterdigester and the digestate storage tanks. A large storage volume for biogas makes for greater gas consumption flexibility. The biogas generated is normally used in a gas engine to generate electricity and heat in cogeneration. In the event that the engine or engines are not in operation yet biogas is still generated, the plants are equipped with an emergency flare, which can be used to burn off the excess biogas. The industrial biogas plant system includes a cooler, a condensate shaft, a desulphurisation system and other components. The appropriate biogas composition is controlled by a gas measuring device. Of course, the biogas generated can also be used thermally (steam, heat) or processed to meet natural gas specifications.
Digestate
The digestate is pumped into storage tanks, which are generally equipped with a gas holder roof. The gas holder roof reduces emissions and increases the biogas storage capacity. Although gas production in the storage tank is not particularly high, in terms of energy and environmental protection it makes sense to capture this and utilise it.
Control system
Every major industrial biogas plant is monitored by a comprehensive automated control system, featuring a variety of measuring and control devices. However, from time to time it is essential for the operator to be on site, e.g. for inspection rounds, to receive the substrates or for maintenance or repairs.
If you are interested, we can provide an energy calculation and a cost assessment for your individual and tailor-made biogas plant free of charge. Contact us directly at contact@kriegfischer.de.
Reference Projects
Biogas Plant Vierverlaten
Location: Groningen, Netherlands.
Input: Sugar beet pulp, sugar beet fragments, potato waste.
Fermenter: Steel tank 4 x 4,600 m3.
Gas utilization: Biogas upgrading system, injection into the gas grid.
Particularities: Four digester, one secondary digester with gas holder, digestate treatment , gas cooling system, mesophilic operation, biogas upgrading system and injection into grid.
Biogas Plant Belgorod
Location: Belgorod, Russia.
Input: Corn silage, sewage sludge, slaugtherhouse sludge (entrails, rests of skin and bristles, meat particles), pig manure.
Fermenter: Glass coated steel tanks, 2 x 3,000 m3.
Gas utilization: Gas engine 2 x 1,2 MWel.
Particularities: Two digester, two secondary digester with gas holder roof, mesophilic operation, external use of heat.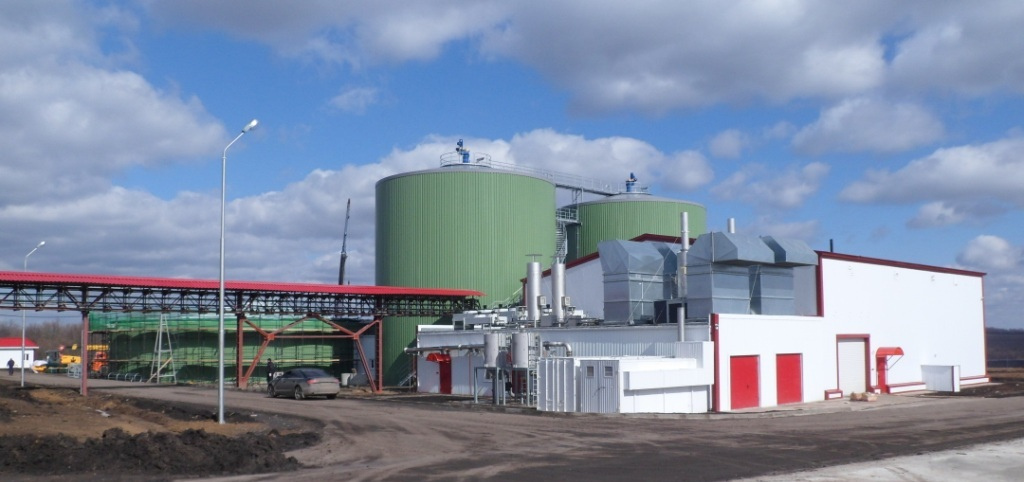 Biogas Plant Rio Cuarto
Location: Argentina, Rio Cuarto.
Input: Thin stillage (corn silage, vinasses), a residual material from ethanol production.
Fermenter: Glass coated steel tank, 8,000 m³.
Gas utilization: 2,927 kWel: 1,200 kWel in CHP; 1,727 kWel in a boiler for internal consumption of the bioethanol process.
Particularities: Digester, secondary digester with gas holder roof, reception tank, solid input device, external desulphurization.