Product Description
Glass-Fused-to-Steel Tanks by H2Flow
H2FLOW TANKS & SYSTEMS INC. is partnered with PERMASTORE to provide Glass-Fused-to-Steel Tanks across Canada and on select international projects. We serve the industrial, municipal and water/wastewater marketplace and offer field erected process and liquid storage tank systems built to a higher quality standard offering long life, low maintenance, and low lifetime cost.
H2Flow Tanks & Systems Inc. is the Industry leader for tank building and installation in the water/wastewater marketplace using PERMASTORE Glass-Fused-to-Steel Tanks systems. Our involvement in your project will reflect many years of sales experience, developing relationships, establishing trust, and working with our customers to fulfill their needs for liquid storage in the water/wastewater marketplace.
Features of the Glass-Fused-to-Steel Tanks
H2Flow provides Glass-Fused-to-Steel Tanks for water and wastewater applications such as clarifiers, storage tanks, aerobic and anaerobic digestion tanks, leachate containment tanks, biosolids storage tanks, water storage tanks, industrial effuent storage and process tanks, etc.
Here are other features and applications of the tanks by H2Flow:
Provide tanks for applications in the ethanol and biofuels industry
Tanks available from 0.75m in height to approximately 40m in height and in diameters from 3.42m diameter to 70m.
Engineer, supply & install tank systems with backfill, concentric and baffle walled requirements
Retrofit corroded concrete or steel covers with corrosion resistant Glass-Fused-to-Steel & aluminium covers
We provide mixing equipment for any tank, any size.
Services offered by H2Flow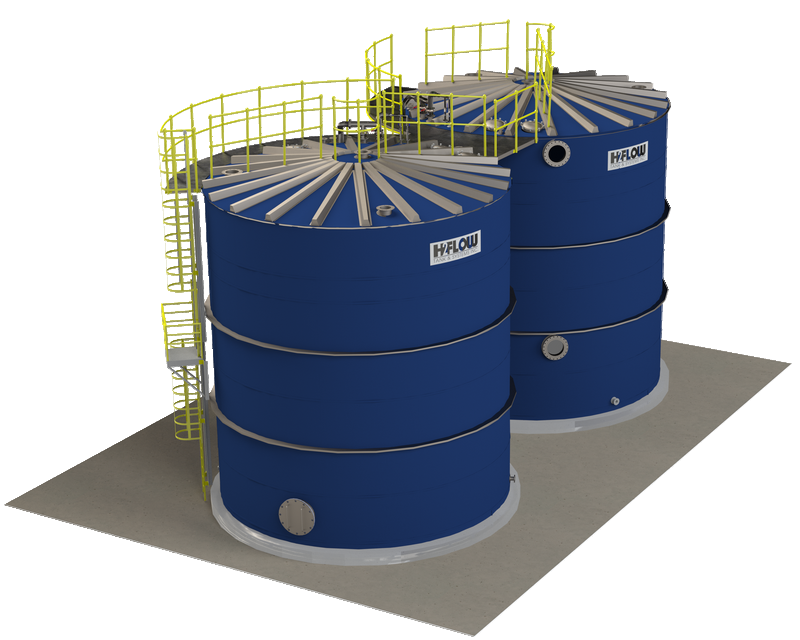 H2Flow also offers the following services when it comes to the Glass-Fused-to-Steel Tanks. We supply and install:
All tank systems and components
Flat or domed for rectanglar or circular concrete tanks
Tanks with 35,45, & 60 degree conical bottoms
Insulation, heat tracing and exterior cladding as required
Internal equipment such as level controls, mixing, aeration and pumps
Additional services include:
Tanks also available in FRP, stainless and epoxy
After sales service and support
Maintenance, inspections, testing and service contracts
Certified and stamped engineering drawings
Foundation and structural engineering
Design build and turn key projects
Please call us to discuss your tank application today, we will be happy to share our expertise with you.