Maximizing anaerobic digestion with pumping & mixing: discover BiogasWorld's clients and their technologies 
Pumps and agitators are important components of every biogas plant and are available in different versions. Existing variety of pump and mixer technologies ensures the perfect control of the treatment, grinding, transfer and distribution of effluents, in industrial, agricultural or biogas production processes.
Pumps perform the grinding and pumping of the inputs. Thanks to a wide range of materials and equipment, pumps are ideal for pumping all fluids.
Agitators designed for heavily loaded liquids mix the substrates. In anaerobic digestion, the submersible mixer is used in digestate storage. In agriculture, this submerged mixer ensures the homogeneity of thick liquids.
Eisele, the company with over 25 years of experience in biogas industry, explains that "in digesters and final storage, submersible mixers with a gas-tight control system must meet the highest industry requirements. It ensures that the fresh and co-fermented slurry supply is mixed with the existing fermented substrate, that the floating crusts and deposits are broken and/or destroyed, and that the distribution of heat is homogeneous in the digester. The optimial mixing of the substrate ensures high and constant biogas production. "
MIXRITE, leading manufacturer of Fluid Mixing Systems, states that mixing is one of the most important operations for successful anaerobic digestion plant."This applies not only to the Digester but also applies to inlet tanks, separation system, blending tanks and post digestion storage. In order to achieve good yield from Digester, it is essential to ensure that a good intimate contact is established between feedstock and microbes, stratification is avoided and, solid build up at bottom is minimized. If all these factors are well within control, Digester will yield maximum gas production and good quality digestate. It is rather difficult to accomplish all these criteria with conventional Rotating Agitator."
Choosing the right mixing technology
Choosing the right mixing technique is important to achieve the highest possible yield in your anaerobic digester. It is only when the agitators are adapted to the size of the tanks and the specific characteristics of the substrates that the fermenting material forms a homogeneous liquid mixture.
Our clients are world leaders and innovators in pumping and mixing for biogas, agricultural, industrial and wastewater applications. Their pumps and agitators of all sizes and for all kinds of substrates are installed in thousands of plants around the world. Whether for urban and industrial wastewater treatment plants or for agricultural applications (slurry and biogas), our clients will assist you in the selection and installation of mixing and pumping systems.
BiogasWorld's clients offering mixing and pumping systems for anaerobic digestion
POMPACTION

For over 30 years, Pumpaction has been a major player in pumping and concreting, within Quebec and beyond. Dewatering mines, quarries and construction sites, supplying potable water, pumping and placement of concrete, paste backfill in mines, municipal and industrial wastewater and sludge disposal, and more – Pompaction is proud to work with customers in any area of activity to deliver value-added solutions that reflect their needs.
WANGEN

Pumps from WANGEN PUMPEN are highly regarded at regional, national and international level thanks to their consistent orientation to market and customer requirements. Pumps from WANGEN PUMPEN convey materials with viscosities from 1 to 10,000,000 mPAS at pressures from 0 to 48 bar and rates from 500ml/h to max. 300m³/h. Be it with progressing cavity pumps in all imaginable sizes or with screw pumps, be it for standard or individual solutions: WANGEN has been meeting these challenges for over 44 years in e.g. the food, environment, biogas, agriculture and chemical sectors.
BOERGER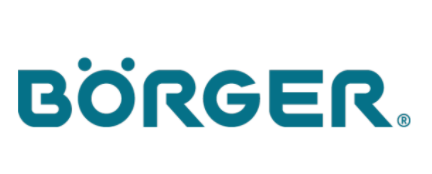 Founded in 1975, Boerger specializes in reliable and cost-effective Rotary Lobe Pumps and Macerating Technology for the conveyance of low to high, viscous and abrasive materials. Their patented Rotary Lobe Pump is a self-priming, valveless, positive displacement pump and is available in 25 pump models with flow rates up to 7,000 usgpm. Boerger Rotary Lobe Pumps are ideally suited for pumping any type of fluid thanks to their wide variety of material and equipment details. Since many years agricultural products from Boerger are well-established in the modern agriculture and biogas sector.
See the ONIXline Rotary Lobe Pump and the BLUEline Rotary Lobe Pump
STREISAL

Founded in 1988, streisal has developed into an internationally active, medium-sized, full-range provider of agitators and mixing systems for all kinds of applications. Our extensive delivery range extends from submersible motors, a modular system of horizontal submersible agitators in a very wide range of versions, to vertical agitators and special designs that provide the features required to solve individual problems.
KONRAD PUMP
Konrad Pump has over fifteen years of experience in stockpiling, processing, and dosing biomass. Their plants are characterized by a well-balanced price-performance and are therefore interesting for small biogas plants from 75kW up to 150 kW. The KOMBI-Mix Dosing Unit has been designed for feeding biogas plants, which require up to 10m³ of biomass per day. The Konrad Pumpe BIG-Mix solid dosing unit is characterized by a large storage volume with a subsequent, proven mixing and dosing technology with a vertical mixing screw. It is highly versatile for the most difficult substrates and characterized by its low energy consumption.
SUMA
Founded in Germany 60 years ago, SUMA is a global leader and innovator of mixers and agitators for biogas, agricultural, industrial and wastewater applications. SUMA products are installed in thousands of installations in 52 countries. Since the foundation in 1957 about 90,000 SUMA agitators have been sold. SUMA mixers ensure that conditions are optimal to achieve the highest possible output in your anaerobic digester.
Other companies manufacturing pumps and mixers for biogas sector
Arkmix: agitators for all kinds of substrates, volumes up to 40 000 m3 municipal digesters and 15 000 m3 bio-digesters with heavier substrates
Cri-Man: design and construct chopper pumps, mixers, screw press separators for livestock, biogas, and industrial plants
Doda USA: pumps and biogas mixers, Hopper System and Macerator Pump System
Lotus Mixers: agitators (tank mixers) covering all sizes, simple to highly complex
Moyno: global leader in the design and development of the progressing cavity pump
Netzsch: NEMO® Progressing Cavity Pumps in FSIP® design and rotary lobe pumps
Ovivo: Eimix mechanical sludge mixer and LM mixer, designed to mix various sludge types in all anaerobic digestion applications
Patz: vertical agitators
Planet eco mixers: all types of time-tested agitator technologies, from submersible motor and large wing agitators through to paddle agitators
Vaughan: chopper pumps and Triton screw centrifugal pumps, flow rates range from 50 to 12,000 USGPM
Volgelsang: rotary lobe pumps designed for viscous liquids, heavy solids & abrasives
Weir pumps: centrifugal slurry pumps, across the globe for almost 150 years
Zorg Biogas: inclined and submersible mixers
Add your company for free in our catalog!
BiogasWorld is growing and we are inviting you to grow with us. BiogasWorld is accepting company listings for our 2018 Biogas Industry Catalog that will be available to our clients in January 2018. Add your company for free and receive messages from your potential clients via our platform.
____________________________
Sources