Description
Industrial & Environmental Concepts Inc.: Leader in Geomembrane Cover and Liner Systems for Tanks, Ponds and Lagoons
Industrial & Environmental Concepts, Inc., (IEC) was incorporated in 1993, and is widely recognized as a worldwide leader in the design, fabrication, and installation of geomembrane cover and liner systems for tanks, ponds and lagoons.
Experience, Quality and Commitment
IEC has a dedicated full-time staff of experienced designers, engineers, fabricators, and installers to ensure the highest quality products and services. IEC possesses the expertise and commitment required to successfully complete any size geomembrane cover and liner project.

Innovative Cover and Liner Designs that Stand the Test of Time
IEC's cover and liner systems are unmatched in terms of quality, flexibility and durability. Our innovative designs span the entire range of cover and liner needs – whether you're looking for gas-collection covers, clarifier covers, insulated covers or liners for your tank, pond or lagoon, we can design for your application.

Versatility to Meet all Industrial, Municipal and Agricultural Needs
The versatility of our products enable us to cover or line virtually any shape and size basin.
We offer covers for gas-tight and semi-sealed applications, that are both available in insulated and non-insulated designs. The covers can be easily installed over any basin, including:
Gas-tight applications
Clarifiers
Trickling filters
Sludge tanks
Semi-sealed applications
Insulated covers for heat retention
Ponds and lagoons
Manure storage systems
Applications
Industrial and Municipal Cover Systems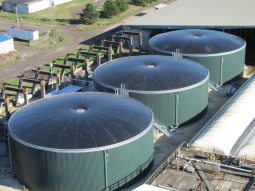 Applications for industrial and municipal cover products include gas-collection and gas storage, odor control, heat retention, evaporation control, and algae control.

Agricultural Cover Systems

Farmers use IEC's affordable and effective cover systems for manure storage applications for various reasons such as gas-collection, odor control, nutrient management and rainwater prevention.

Geomembrane Liner Systems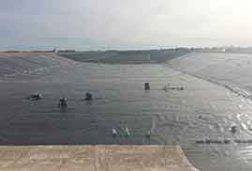 IEC provides and installs geomembrane liners for applications such as secondary containment areas, tanks, landfills, ponds and lagoons and aquaculture ponds.