Description
H2Flow Equipment Inc.
H2Flow is a Canadian company focused exclusively on sales and service of municipal and industrial treatment facilities for water, wastewater treatment and solid waste processing.
Established in January 1992, H2Flow has been providing treatment solutions, exceptional customer service and building long lasting relationships with clients and customers for twenty-eight years. Our team consists of skilled engineers, technicians and support staff oriented towards customer support.
We have completed hundreds of projects, both large and small, and on all of them, our focus has been making our customers satisfied. We are ISO 9001:2015 certified and adhere by those quality standards.
Service and customer support after the sale is an H2Flow promise. Our skilled professionals provide operation support and troubleshooting, as well as on-site training of operators and plant maintenance personnel. Service contracts are available to assist our customers with on-going equipment operation.
There is always an opportunity to turn problems into solutions. Whether municipal and/or industrial, our customers deserve the best technology available with a treatment system designed for their individual requirements.
Our offerings include:
Tank Construction
Water and Wastewater Treatment Equipment
Engineered Solutions
Design Assistancer
Computer-Aided Design and Drafting
Quotations, Specifications and Drawings
Pilot Trials and Equipment
Service
Spare Parts
Start-Up and Repair Services
Operator Training
Support and Troubleshooting
Service Contracts
Installation Services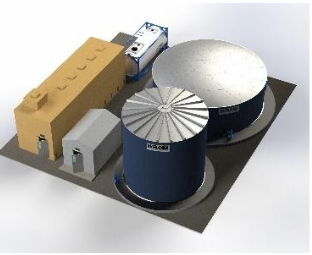 Along with our built-on site tank division, H2Flow Tanks & Systems Inc., we can supply full treatment systems including the required tankage for equalization, reaction tanks, clarifiers, anaerobic digesters.






Typical Biogas Applications and Customers Served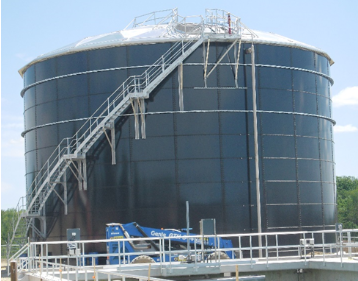 Solid waste treatment facilities
Waste-to-energy facilities
Wastewater Treatment Plants
Organics Processing
Food and Beverage
Chemical & Petrochemical
Pulp & Paper
Sample Signature Projects
City of Toronto Disco Road project: we supplied Qty. Two Anaerobic Digester Tanks, each at 5700m3 in volume plus other tanks and SBRs for wastewater treatment, blowers, screens, conveyors, and Biorem odour control biofilter (Aecom project).
City of Toronto Dufferin project: we supplied Qty. One Anaerobic Digester Tanks, at 5300m3 in volume plus other tanks for wastewater treatment, screens, conveyors, press and Biorem odour control biofilter (Anaergia Project).
Municipality of Chilliwack BC: H2FLOW supplied an Anaerobic Reactor for high strength brewery wastewater plus all other tanks and the wastewater treatment system through our project partner, GW&E.
We are committed to working with our customers and providing a competitive price, well built, superior system to meet their treatment requirements.
Please do not hesitate to contact us for any information you may require.