Product Description
SEEPEX Progressive Cavity Pumps: Leaders in the progressive cavity pumping approach
Whether in transfer applications or in the dosing of chemicals, sludges and polymers, Seepex progressive cavity pumps are established as leaders in the progressive cavity pumping approach. Generating almost zero shear during the pumping action, Seepex pumps are also used in a wide range of applications where it is important to protect the final texture of the product from any alterations. The Seepex product range now offers the widest range of construction and overlay materials applicable to the stator and rotor of progressive cavity pumps, as well as macerators operating in series with the pump.
SEEPEX progressive cavity pumps, macerators and control systems are used wherever thin to highly viscous, aggressive or abrasive media needs to be pumped with minimal pulsation. Our portfolio comprises a variety of product groups and ranges, enabling a customized solution for every customer.
Benefits of SEEPEX Progressive Cavity Pumps
The SEEPEX Progressive Cavity Pumps offer the following benefits for your project:
Self priming
High discharge pressures
Flow almost independent of system pressure
Direction of rotation reversible
Continuous flow
Minimal pulsation
Suction lift up to 9 m (29.5 ft.) water column
Required NPSH (Net Positive Suction Head) less than 1 m possible
Less product shear
High performance – Low costs
When investing in a pump or a complex pumping system, the purchase costs constitute only a fraction of the total investment. In developing and designing each pump, SEEPEX commits to minimizing total operating costs. Progressive cavity pumps have a life of 15 to 20 years as a rule.
No matter the industry or customer: SEEPEX has an extensive technical portfolio to deliver innovations for reduced life cycle costs over the complete lifetime.
Key facts
Conveying capacity: 0.06 l/h to 500 m3 /h (0.016 USGPH to 2,200 USGPM)
Pressure: up to 96 bar (1400 psi)
Temperature: -20 to 180° C (0–360° F)
Range of products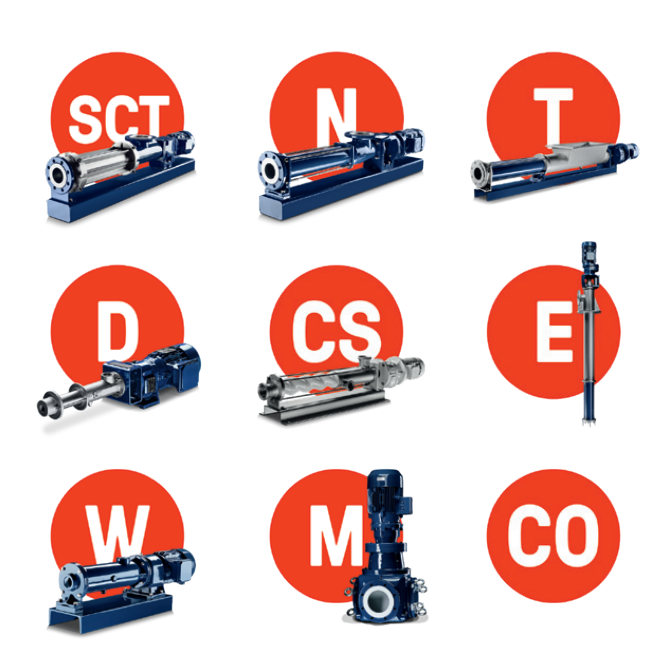 To learn more about the types of SEEPEX pumps, read the brochures HERE.
About SEEPEX
SEEPEX was founded in 1972 in Bottrop, Germany and is known today as a leading specialist in progressive cavity pump technology, represented in over 70 countries. Agriculture, textiles, environmental engineering and many other markets: SEEPEX pumps operate reliably in the most significant industries.