Product Description
An innovative, reliable solutions to save energy
Air Liquide offers the Turbo-Brayton technology for liquefaction, reliquefaction and refrigeration of gas such as biogas, methane or LNG. It is an innovative, reliable and efficient solution for cryogenics, designed to save energy. It guarantees a continuous, highly reliable, energy-efficient and 100% oil-free operation.
The assembly of all active elements on the same shaft is the heart of the innovation. The recovery of the expander mechanical power, the centrifugal compressor and the direct drive high speed motor lead to a high overall efficiency.
The operation is very flexible, and the cold power can be adapted from 0 to 100% by changing the rotation speed of the motor, keeping high efficiency on a large range of operation (97% of nominal efficiency @ 50% of nominal cold power). This is particularly adapted to processes where the need for cold power is not constant and where energy saving and reliability are key issues. The MTBF (Mean Time Between Failure) of the Turbo-Brayton is 105 000 hours and the time between maintenance is 5 years.
The reverse Turbo-Brayton principle
The system is supplied as a single skid, ready-to-run package with a small footprint, mainly composed of:
Turbomachine(s)

High speed synchronous motor on active magnetic bearings, Direct drive centrifugal compressor, leading to high efficiency, Expander, which power is recovered and used to reduce the motor consumption.

A vacuum isolated cold box with a counter current plate fin heat exchanger

Smart control system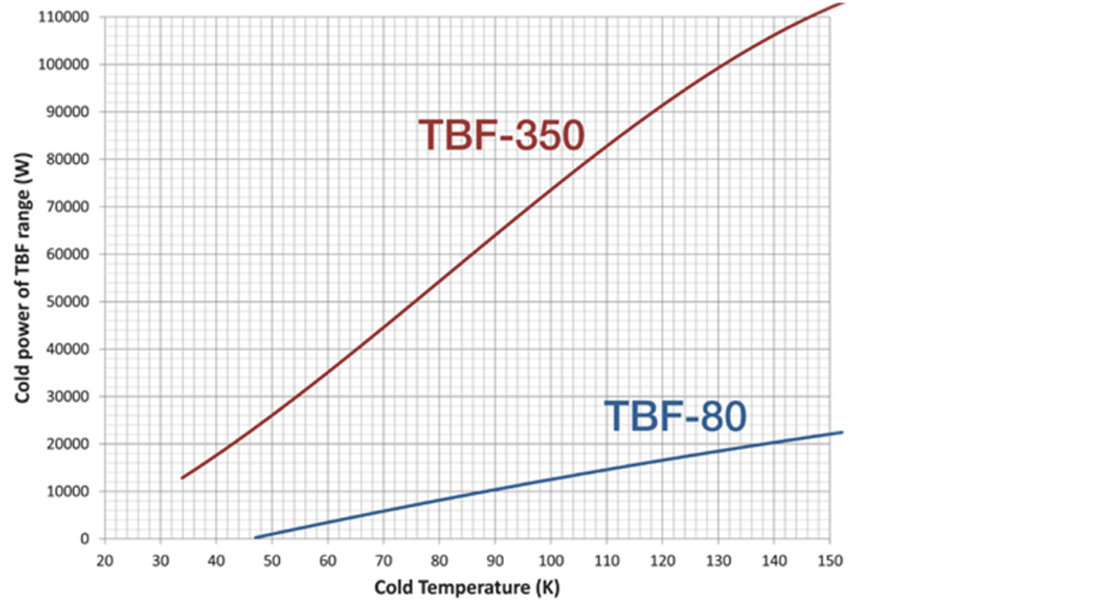 A solution adapted to various applications
For refrigeration
Refrigeration between 25K and 200K adapted to customer's needs
HTS (High Temperature Superconductor) cooling: SFCL (Superconducting Fault Current Limiter), coil, motor, generator, cable…
Cryogenic gas purification and/or separation
For liquefaction
All gases with a saturation temperature between 25K and 200K: Methane, air, nitrogen, oxygen, argon, xenon… (up to 70 bars)
Biogas
Boil off reliquefaction: CnHm, LNG, LN2, Ar, O2…
A Boil-off reliquefaction solution that is suited to a variety of marine applications and vessels 
The Turbo-Brayton technology for Boil-Off Gas (BOG) reliquefaction has been specifically developed for marine applications; for shipyards, charterers or ship-owners. The Turbo-Brayton range has reliquefaction capacities varying from 0.2 t/h to 1.8 t/h, and more by duplicating modules. This boil-off reliquefication system can be installed on both new constructions and retrofitted vessels.
Bunker vessels and bunker barges (from 1,000 to 30,000 m3)
LNG-powered vessels
LNG carriers (from 15,000 to 200,000 m3)
Multigas carriers
FLNG
Key benefits of Turbo-Crayton Technology
Maximum energy savings 
All components of the turbo-Brayton systems are designed to be both flexible and energy efficient (up to 40 % of Carnot efficiency). Enjoy extra energy savings with integrated Variable Speed Drive technology, which automatically tunes the motor speed to the cold power demand.
High reliability
Thanks to innovative magnetic bearings, low vibration turbo technology and integrated Variable Speed Drive, Turbo-Brayton systems provide exceptional reliability and production continuity.
100% oil-free and environmental friendly process gases 
No risk of damage due to oil contamination, no risk of losses from operational downtime thanks to maintenance-free technology.
Easy installation
The integrated design of Turbo-Brayton systems includes internal piping, coolers, motor, and control system: all supplied as a ready-to-use package. Installation is fault-free, commissioning time is low and no external instrument air is required. You simply plug and run.
Care free systems
One of Air Liquide's key concerns is to deliver a product that guarantees maximum uptime, in order to keep your system running.
Extremely low life cycle cost 
Our solutions are developed to set costs at their lowest level, considering investments and operation costs.
Turbo-Brayton range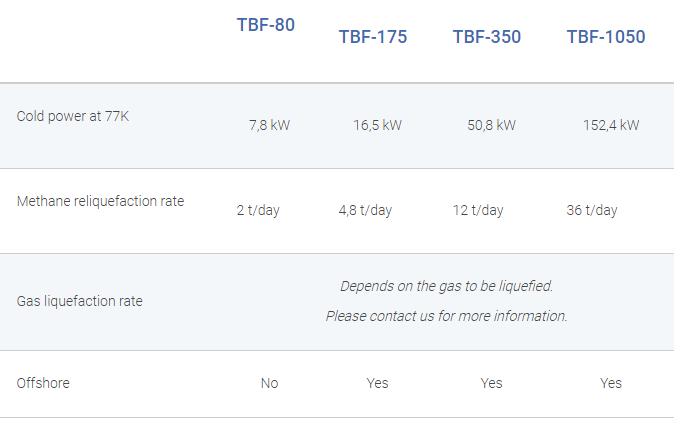 Find out more about the Turbo-Brayton technology HERE.