Validity of US patent on 3-stage separation confirmed
Decision of the US Patent Office confirms Evonik's previously communicated expectations  
Label for certified suppliers
October 17, 2022
Parsippany, USA. The U.S. Patent Office has confirmed the validity of Evonik's patent for a 3-stage process for efficient biogas upgrading using SEPURAN® Green membranes in a voluntary supplementary examination procedure. Based on this decision, biogas projects in the USA using the patented separation process can continue to be offered and implemented exclusively by Evonik and its partners. The decision by the U.S. Patent and Trademark Office also applies to biogas projects outside the U.S., provided they use the patented separation process and components essential to the process that are manufactured in the United States.
"The decision by the U.S. Patent Office clearly confirms the innovative power and technological superiority of our biogas upgrading membranes," says Maureen Schaefer, Group Head of Evonik's Membranes Business in the Americas. "For our customers, this decision is an important signal to continue developing the global biogas market together and reliably."
Hollow-fibre-based gas separation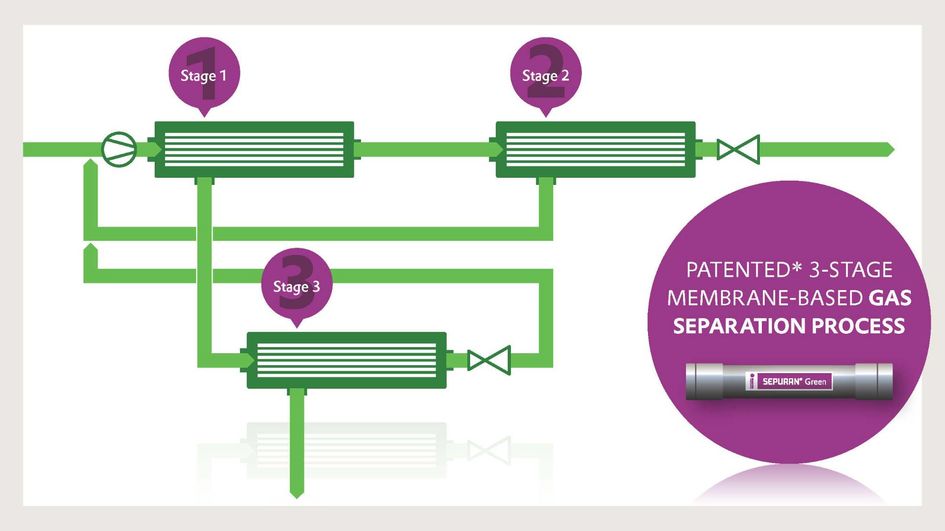 In the gas separation process developed by Evonik, gas mixtures such as raw biogas, which consists mainly of biomethane and carbon dioxide, can be upgraded particularly efficiently and cost-effectively. In addition to requiring less equipment and energy – a second compressor is no longer necessary – the patented process enables highly efficient and cost-effective purification with the highest methane purities and low methane slip. The enriched gas can be fed directly into the natural gas grid.  
A key component of the patented separation process is Evonik's innovative hollow-fibre membranes. They consist of a specially developed high-performance polymer that is highly resistant to pressure and temperature and has very high selectivity. In conjunction with the patented 3-stage membrane circuit, which is characterized by minimal recycling flows, among other things, the energy costs of biogas upgrading plants can be optimized.
Label for certified suppliers
Evonik grants its contractual partners – plant engineering companies – a license for the use of this 3-stage separation process when they purchase SEPURAN® Green membranes. With the purchase of a biogas upgrading plant with SEPURAN® Green Membranes built by Evonik's contract partner, the plant operator is then allowed to run it according to the patent-protected process.
Evonik has introduced a label for suppliers of efficient biogas upgrading plants with SEPURAN® Green membranes. This enables plant operators to directly identify which plant construction partners are allowed to offer the patented 3-stage interconnection and provide access to the exclusive circle of users of the technology.