Are you ready to enjoy your summer?
Even if you are not yet on vacation, the energy of summer inspires us. To take advantage of this vibe, we have selected five best biogas and RNG reports listed in Biogas Community Library so you can enjoy your summer even more and stay tuned in to what's going on in our industry.
1. Beyond energy – monetising biomethane's whole-system benefits – EBA, 2023
The report lists and explains environmental, economic and social benefits of biomethane production, including soil health, greenhouse gas emissions impact, energy security, provision of biogenic carbon dioxide, organic waste processions and job creation. As a conclusion, this study by EBA finds out that in 2030, the additional economy-wide benefits of biomethane production to the EU27 and UK range from $38-78 billion.
February 2023
Download the Full Report here.
2. A comprehensive study to scan and analyze approaches to sharing the cost of blending renewable natural gas (RNG) – BiogasWorld, 2022
This RNG study initiated by Natural Resources Canada analyzes Canadian and international regulations and approaches on RNG pricing and cost sharing by main natural gas utilities. It presents several scenarios used by Canadians and US utilities to acquire and sell RNG via their network.
BiogasWorld
December 2022
Download the Full Report here.
3. Canadian Digestate Management Guide – CBA
The Canadian Digestate Management Guide provides the information on how the digestate is produced, discusses key digestate characteristics and summarizes best management practices for using digestate and describes nutrient stewardship principles for digestate.
March 2023
Download the Full Report here.
4. Economic Analysis of the US Renewable Natural Gas Industry – Coalition for Renewable Natural Gas
The document presents the economic analysis of the US RNG industry and includes the estimations of RNG contribution in jobs, GDP and total business sales. Additionally, the report presents the overview of RNG sources by feedstock, RNG facility sizes by volume and costs.
December 2022
Download the Full Report here.
5. How bioenergy contributes to a sustainable future – International Energy Agency
The IEA Bioenergy Review Update 2023 presents an evidence-based assessment of the status of bioenergy around the world. The assessment is based on work conducted by over 200 experts, active within the Tasks of the IEA Bioenergy Technology Collaboration Programme (TCP). The report presents biomass combustion, gasification, direct thermochemical liquefaction, biogas production for heat, electricity, renewable gas, and transport.
January 2023
Download the Full Report here.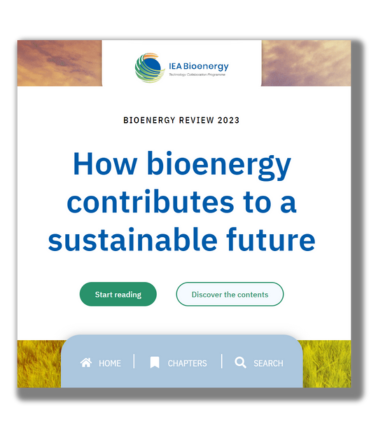 To stay updated on everything about biogas and biomethane, join Biogas Community