BMP testing is an essential tool in planning any biogas or RNG/biomethane project. It helps understand and optimize anaerobic digestion feedstock, plan biogas production and increase any biogas plant's efficiency and profitability. To understand how BMP testing works why it is important and what equipment exists, BiogasWorld spoke to Mr. Thomas Schneider from  UIT GmbH Dresden, leader in bioreactors and biogas test equipment from Germany.
What is BMP?
The abbreviation BMP stands for Bio-Methane Potential.
Biomethane is the main component of biogas, which is produced by the fermentation of biomass with the help of microorganisms without oxygen in biogas plants. Energy crops, biogenic waste and residues, and manure are used as feedstocks.
The biomethane potential or biochemical methane potential (BMP) of a given substrate defines the maximum amount of methane that can be produced by anaerobic digestion. The BMP is a key parameter for characterizing substrates and evaluating the efficiency of anaerobic digestion plants. This parameter helps assess the quality and value of different substrate types and makes process balancing possible.
BMP is usually measured in anaerobic batch tests in a laboratory setup (BMP test). The final value of cumulative methane production at the end of the test is referred to as the experimental BMP of the substrate. Determining the BMP with recurring tests increases the reliability of the determined characteristic values. In continuous fermentation tests, feeding with fresh substrate and removal of the fermentation residue occur during the test.

Why is it important for biogas and biomethane projects to measure BMPs? What are the benefits of BMP testing?
With the drive to use more and more biogas for energy supply, there is a need to use new unknown substrates. Before these substrates can be used on a large scale, it is necessary to determine their biomethane potential (BMP) or fermentability. With the BMP test, this can be done effectively and inexpensively.
The biogas test facilities of UIT GmbH Dresden are also characterized by the fact that the fermentation tests can be carried out in a continuous mode of operation and thus significantly more process reliability can be achieved.

Who would typically use pilot plants?
Biogas test facilities or pilot plants are used by institutions for research and development and companies that design and build biogas plants. Increasingly, applications in the field of hydrogen production or biological methanation are also in demand.
Furthermore, companies producing enzymes or nutrients for the optimization of biogas production use biogas test plants. With the biogas test plants these companies carry out product optimization or prove the positive effect of their enzymes or nutrients.
What are the most important innovations and developments in process control?
Continuous gas quality determination at laboratory or pilot plants is a challenge. On the one hand, the gas quality often has to be measured at many reactors in parallel and, at the same time, only the smallest gas quantities are often available. UIT GmbH Dresden has the solution: by using only one analyzer for several reactors, the results are easily comparable. Plus, the service effort is reduced.
How do UIT products help the biogas industry develop?
Current trends dictate high prices for biogas feedstocks and create significant difficulties in the economic operation of biogas plants. This has created a great deal of practical interest in controlling feedstock composition or using alternative substrates. The biogas test facilities can be used to test these substrates and optimize digester operation.
Tell us more about UIT's new pilot plant and its advantages?
The system BTP is characterized by its comprehensive basic automation system SENSOcontrol. This panel-based control system is used for process control and data storage as well as data evaluation. Optionally, the system can be extended with pumps for feeding, special control sensors and other elements. The Biogas Test Plants – BTP stand for a high degree of flexibility and adaptability to changing needs.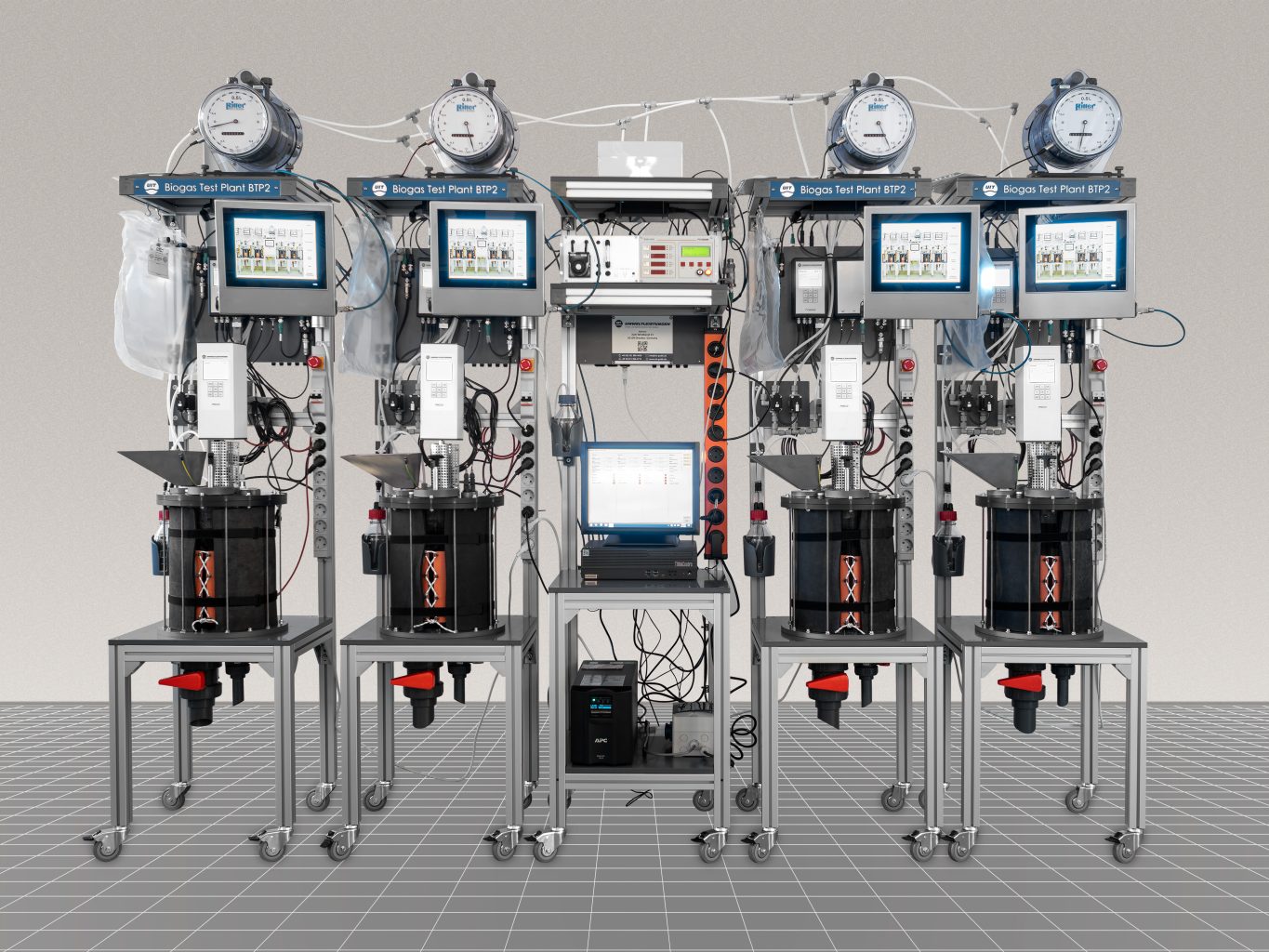 The standard reactor sizes are available in the glass version from 5 to 60 liters. The 15-liter bioreactor has proven to be an excellent size to achieve good transferable research results for many applications. In addition, larger stainless-steel reactors are also offered. Reactor volumes of 80 up to 1000 l are available here.
Biogas test plants (BTP) are equipped with gas-tight/heated/stirred/insulated bioreactors designed for fermentation processes. The temperature of the bioreactor can be adjusted up to 60° C. 
Integrated control and analytical instruments (temperature, pH, redox potential) and gas quality analyzers allow basic studies for process understanding and gas production kinetics.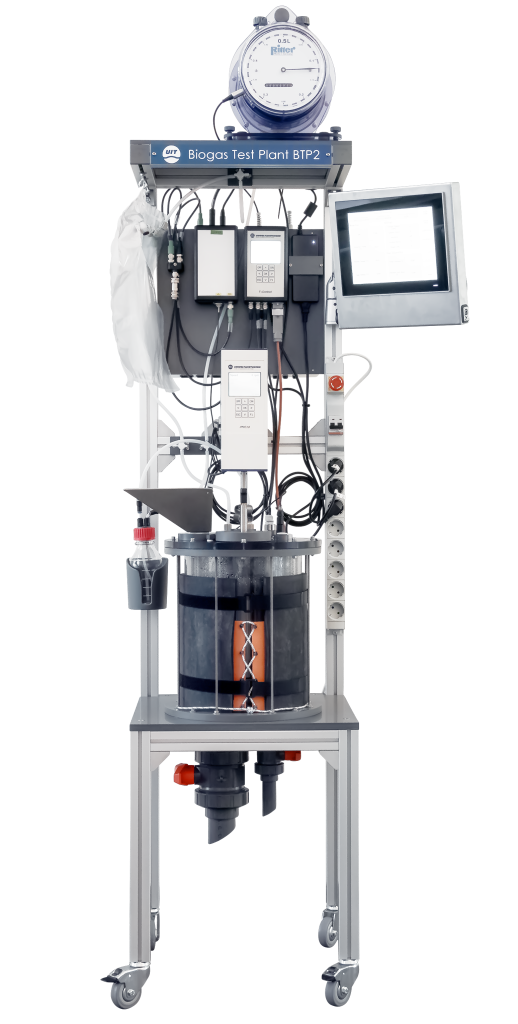 Analysis of biogas quality (CH4, CO2, H2S, O2, H2) during fermentation of substrates is automated, including volume measurement of produced biogas. The gas analyzer does not take the gas needed for analysis directly from the reactor, but the biogas is collected in gas bags. This gas bag content is then analyzed cyclically.
How does UIT manage to sell the biogas testing facilities internationally?
This is an important issue and a multi-step process. On the one hand, UIT GmbH Dresden has a standardized construction kit for their biogas testing plants and can effectively discuss these with their customers via MS teams and advise the customers. Price information can also be provided quickly due to the standardization. For large inquiries, UIT GmbH Dresden may also visit their customers worldwide. 
The plants are manufactured in Germany Dresden and assembled in company's workshop. After successful FAT (Factory Acceptance Test) they are packed in export crates. Simple plants configured in this way can be taken out of the packaging and put into operation by the customer (plug and play). For more complex biogas test plants, commissioning is supported by a UIT service engineer.
This all sounds very simple and logical. But more than 20 years of experience flow into this process.
Why not give UIT GmbH Dresden a try?
ABOUT UIT GMBH DRESDEN
Umwelt- und Ingenieurtechnik GmbH Dresden (UIT) is a German manufacturer and supplier of Bioreactors and Biogas Test Equipment and provides also various environmental monitoring solutions.
With the focus to provide high quality and reliable equipment we are helping to optimize processes for biogas plant operations and provide useful tools for biogas analysis, research and development with the goal to optimize digester operation and maximize methane production.
To learn more, visit UIT page at BiogasWorld's catalogue
ABOUT BIOGASWORLD
BiogasWorld is a business generation network and project support platform, connecting the suppliers of products and services with project developers. BiogasWorld delivers services via BiogasWorld and Biogas Community  platforms.