Product Description
Longshaft-Submersible Agitator – ARMA MIX HYBRID
Equipped for the toughest requirements:
"Hybrid" means: "composed of different things" or also "the best combined from different systems".
The result is the perfect agitator for all applications with fluctuating fill levels, such as in the fermentation residue store or in the secondary fermenter.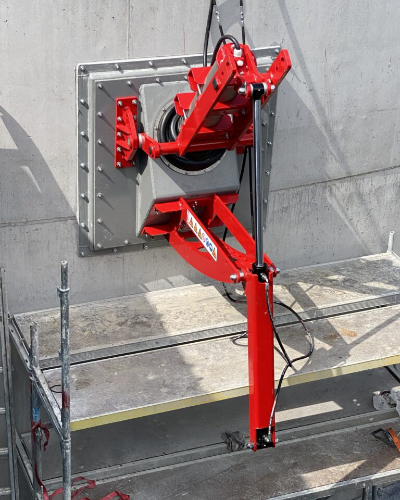 Advantages of the Arma Mix HYBRID
The robust construction and the use of proven components ensure reliable operation and durability. Wearing parts can be replaced quickly and easily thanks to the modular design.
The hydraulic height adjustment of the agitator allows quick readjustment when filling or lowering the filling level. On request, we also offer the agitator with a control system and the associated automatic adjustment.
By means of a sensor in the area of the submersible mixer, the control always adjusts the position of the agitator to the current fill level. In this way, you avoid damage to the agitator, e.g. due to immersion in a floating layer or uneven loading due to e.g. insufficiently immersed agitators.
Floating and sinking layers can be avoided by cyclical adjustment of the agitator levels. The full stirring capacity is always available, regardless of the filling level.
The flow-favourable installation position for a circulating flow following the tank wall as well as the unhindered flow around the agitator enable the best efficiency and optimum agitating results compared to inserts of conventional submersible motor agitators close to the wall.
Further details
Best accessibility for servicing: The agitator can be mounted and dismounted laterally through a wall opening without opening the roof. During maintenance, the wall opening is sealed gas-tight with a blind cover.
Cost-intensive floor bearings, agitator masts, gas-tight wall ducts and ceiling service shafts are eliminated, as are racks and worm drives in the gas area. In addition, flow resistance is reduced to a minimum by the round support tube – this enables us to achieve maximum agitation performance with low energy requirements.
Operational malfunctions, e.g. due to coiled or entangled cables, broken steel cables or defective bottom bearings, are thus a thing of the past. All electrical components are protected in the support tube.
Technical data
Installation up to 8 m below filling level
Supporting pipe length 4 m inside the tank
Modular construction
For more information, visit our website.