Lecce, 21st June 2023 – Sebigas, a company specialized in the design and construction of biogas and biomethane plants, signs a contract with Wakonda SpA, an innovative agricultural startup from Lecce, Italy. The contract sets the construction of a biogas plant fed with Opuntia (prickly pear) blades and other agricultural by-products, to produce electricity, thermal energy, and high-quality organic fertilizer.
Wakonda project started on lands previously affected by the Xylella plague and no longer cultivated by the previous owners. These are lands unsuitable for noble crops that, like so many others in Puglia and in the south of Italy in general, run the risk of remaining uncultivated and abandoned.
The biogas plant will be fed with cladodes – the blades of the prickly pear tree -, olive pomace, wine pomace, whey, and poultry manure, for a total of about 16,000 tons per year.
Sebigas will support the client in the role of Technology Provider, and will be in charge of the design and construction of the engineering. The plant will have an installed power of 300 kW: the electricity produced will be sold to the grid, the heat will be fully utilized in Wakonda's production cycles; the digestate, rich of nutrients, will be used as a fertilizer for the surrounding land. Once in operation, the new plant will avoid the release of more than 11,000 tons of CO2 into the atmosphere each year.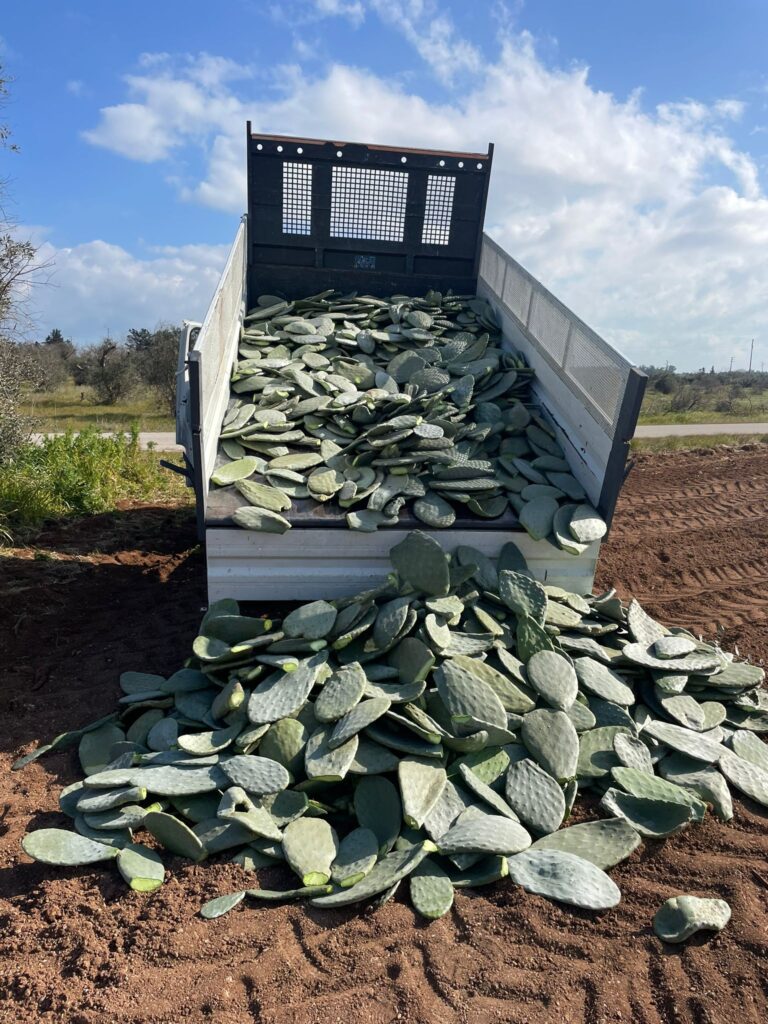 Says Roberto Salmaso, General Manager of Sebigas "We are delighted to have embarked on a shared journey with Wakonda as Technology Provider. Seeing this plant come to reality is a source of pride and a drive towards the development of other innovations in the biogas/biomethane sector, always with the aim of differentiating ourselves both in Italy and abroad".
"The design of a plant mainly fed with cladodes was an opportunity for us to demonstrate the great flexibility and scalability of our technological solutions. – Sebigas Project and Product Manager Federico Torretta explains. Therefore, we worked to find a simple configuration that would be efficient and ensure maximization of the opuntia's energy potential. In addition, during the design phase, we had to consider the possibility of variations in the recipe, specifically the use of by-products collected in the area, such as olive pomace or wine pomace."
According to Andrea Ortenzi, Ceo and Founder of Wakonda, "Our technique of growing and processing prickly pear is intended to be an 'open model' of development, also from a landscape and environmental point of view, which will enable the recovery of much of the land that has remained unproductive because of the Xylella plague. An open model for Opuntia cultivation also for other local growers, with whom we want to relate to provide an opportunity for growth and employment. We are confident that this with Sebigas is the first in a series of projects that are also possible thanks to the important legislative changes that seek to combine agricultural efficiency and renewable energy production, particularly with the so-called Biomethane Decree; we hope to be able to put in place "agricultural" biomethane projects in the coming years, also thanks to a proactive dialogue with local administrations, which are very sensitive to these issues.
According to Alessandro Vox, CFO of Wakonda, "The biogas project, in collaboration with Sebigas, is the first in Europe to be fed mainly with the prickly pear plant. This allows us to make several products for human food and animal feed, which will be brought to market in 2024. The process, in complete circular economy, by lowering the energy costs of processing the plant, will allow us to have more competitive prices for customers.
"The heart of the biorefinery is the biogas plant, which allows us to achieve full circularity: in addition to generating energy, total heat recovery is integrated into our production cycles, with an innovative approach that minimizes production costs. We are very satisfied with the solutions proposed by Sebigas for our project," says Wakonda CTO Dr. Fabrizio Sibilla.
The cultivation of opuntia has multiple advantages: it is a plant that can be processed and grown even in arid soils. Compared to corn, 10 times less water is needed for a quadruple production. It is a very simple cultivation process, in Wakonda's case even organically, but above all much more sustainable than classical cultivation. Opuntia also grows perfectly under solar panels, so agrivoltaics can also be implemented on these soils. Finally, it is possible to exploit not only the delicious fruit for food consumption but also its blades to fuel biogas plants and produce new energy (energy potential of 50-80 m3 of raw biogas per ton of cladodes as such depending on their water content).
About Sebigas Renewable Energy srl
Sebigas is an engineering company operating since 2008 and specialized in the design, supply and operation of biogas and biomethane plants worldwide. With a portfolio of more than 80 plants built on 3 continents, and from installed capacity from 200 kW to 3 MW, Sebigas plants record 98.2% availability at full capacity, equivalent to about 8,600 hours of operation per year with plant downtime kept to a minimum. Sebigas is a reliable partner with well-established experience in the processing of heterogeneous biomass, able to provide tailor-made plants designed on the customer's needs to ensure optimal and continuous operating efficiency. From its headquarters in Italy Sebigas operates worldwide supported and sustained by its membership since 2020 in the international TICA group, with about 3,000 employees, 10 production plants worldwide and 70 Branch offices.
About Wakonda SpA
Wakonda is an innovative startup in agriculture in Lecce and oriented toward sustainability, established in 2021 and made up of a team of experts in bioenergy, food industries, nutraceuticals, retail and marketing. The first company that deals not only with the cultivation of Opuntia but also its processing for multiple uses, such as food production to obtain flours or proteins, beverages and juices, or for the production of cosmetics and nutraceuticals.
Ufficio stampa Sebigas
Mediatyche SB. | Sara Orsenigo – sara.orsenigo@mediatyche.it