The role of sustainable biohydrogen in the total energy mix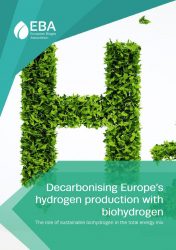 The European Biogas Association, in collaboration with biogas experts, is launching today a white paper on the sustainability, affordability and accessibility of biohydrogen to support its production and use in Europe.
Biohydrogen, a type of green hydrogen derived or produced from biogases and biomass, can support the decarbonisation of Europe's hydrogen production. In contrast to the other forms of hydrogen, biohydrogen can be zero or even carbon negative if it is obtained from feedstocks such as wastes and manure.
In addition, depending on the biohydrogen technology, biohydrogen production can generate co-products such as pure biogenic carbon dioxide, digestate or biochar. This process further supports the decarbonisation of industries, contributing to the circular economy and helping to permanently store carbon in the soil.
Watch the EBA video series introducing the paper