Product Description
Movable double membrane gasholder
Two membrane constant-pressure gasholders are designed to store biogas obtained from the anaerobic digestion of organic waste and sludge.
The 2MASTER on Platform gasholder is made with a single outer membrane, pressurised by an air fan 24 hours a day to keep the inner gas membrane at a prefixed and constant positive pressure. The gasholder is cylindrical and completely made and tested on company premises, ready for delivery.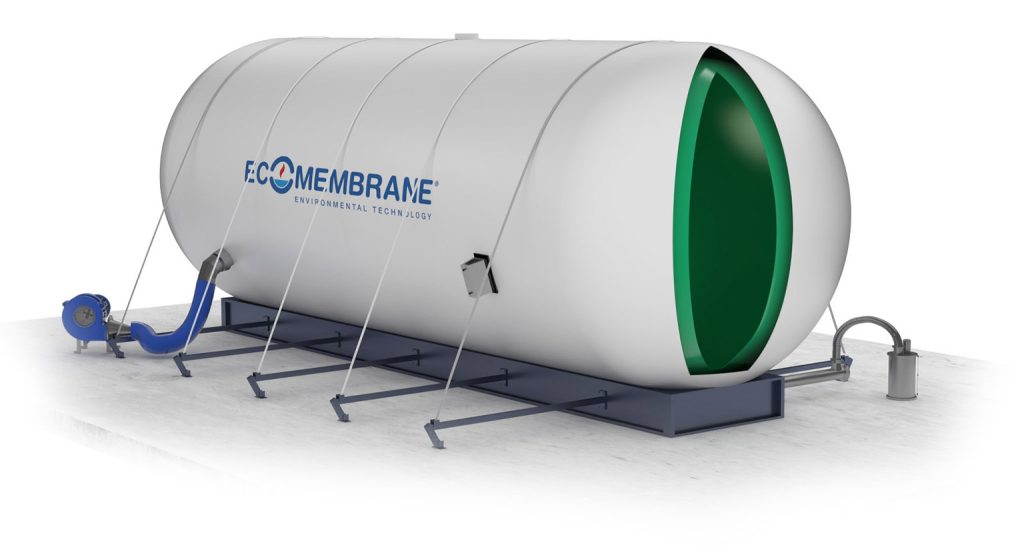 Why should you choose 2MASTER on Platform gasholder for your project?
Easy installation: The pre-assembled design of the 2Master on Platform save time and effort during installation, and reduce the risk of errors or issues during assembly.
Small footprint: The compact size of the 2Master on Platform make it a good choice for projects with limited space available.
Scalable: The 2Master on Platform is available in different sizes, which allows for flexibility in terms of the capacity of the biogas plant.
High-quality materials: The product is made from high-quality materials that are resistant to corrosion and chemical degradation, which help to ensure durability and longevity.
Energy-efficient: The 2Master on Platform is designed to operate with low energy consumption, which help to reduce the overall operating costs of the biogas plant.
Features
Maximum storage capacity:
Operating measure: Min 10mbar up to 20mbar
Platform dimensions: 12m X 2.4m
Plateform weight: between 4,000kg and 5,000kg
Anchorage system
Air pressure control valves
Controlling valves
Centrifigual Air Fans – Gasholder
Level sensor
NO Concrete base
NO Installation costs
For more information, visit our website or download our technical brochure.