Product Description
Nitrogen Generators
Applied Compression's nitrogen generators offer users a cost-effective alternative to expensive bottled nitrogen.
Whether you simply require a nitrogen generator itself or a complete system with feed air compressor, dryer, filters, storage tanks, and booster compressors Applied Compression Systems can help.
At Applied Compression, we recognize that in many cases, the initial capital cost of the gas generator package will often determine the economic viability of the project. With this in mind, we have developed a range of PSA gas generator packages that allow us to easily match a unit to your specifications and budget.
As a provider of both standard and custom fabricated systems, we have the expertise to design and supply the most cost effective package for your requirements. Each package supplied by us includes a comprehensive set of operating manuals and data sheets.
Nitrogen purity levels ranging from 90 to 99.999% are available.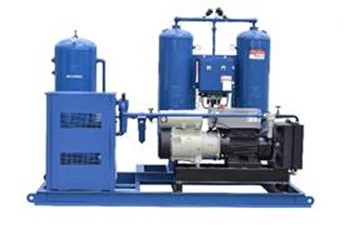 Why should you choose our Nitrogen Generators for your project?
Quick and easy to install: Our pre-engineered nitrogen generator modules are fully packed resultingin reduced installation costs.
Flexible design: Our modular design allows us to easily modify packages to meet specific client requirements.
Up to 99.999% purity: We offer packages for purity levels ranging from 95% to 99.999% allowing us to accurately match a system to your process requirements.
Modular design: Our modular design allows us to select and match components that will provide the best economics for your applications.
Selection: We offer both PSA and membrane technologies as covering a full range of purity levels and output capacities, to meet your individual requirements.
Reliability: Our Nitrogen generator packages are designed and proven to run 24/7.
Cost savings: Cost savings of 50% to 300% are made over bulk cylinders or bulk liquid nitrogen.
Engineered for maximum safety: All packages are manufactured to ASME code as well as all provincial/state electrical code requirements. Pressure vessels are hydrostatically tested for complete user safety and equipped with approved ASME code safety relief valves.
Guaranteed component capibility: One source for all the major components, ensuring component compatibility and process functionality throughout the entire system.
Cadd design: We utilize a Computer Aided Design and Drafting (CADD) system, so we can provide you with a detailed look at your nitrogen generator package before it's manufactured.
Detailed parts & operating manuals: Each package manufactured by us comes with a set of indepth parts and operating manuals, so you can clearly understand the operation and maintenance requirements of the equipment.
Quality control documentation: On completion, you are provided with detailed quality control documentation including material test reports (MTRs), hydro-test reports, x-ray certificates, welder qualifications, weld mapping, ASME U1A forms etc., ensuring safe equipment operation for years to come.
Testing: Whenever possible, each nitrogen generator package undergoes a mechanical run test and detailed inspection process prior to shipping.
Shipping logistics: Whether you need a package to be shipped within Canada, across North America or overseas, we can assist with final shipping arrangements to your site.
Applications
Autoclaves
Modified Packaging Atmospheres
Coffee Packaging
Oxidation Control
Coil Tubing Units
Pharmaceutical Manufacturing
Electronic Parts Manufacturing
Reflow Ovens
Enhanced Oil Recovery
Shipboard Inerting
Food Preservation
Solvent Drying
Gas Assist Injection Molding
Tank Inerting
Gas Chromatography
Under Balanced Drilling
Inert Gas Blanketing
Wave Soldering
Laser Cutting
For more information, visit our website or download our technical brochure.