Product Description
IES Biogas transforms waste into renewable energy
IES Biogas creates innovative integrated platforms for the management of solid urban waste by extracting resources and energy from it.
IES WASTE is the division specialised in the management and recycling of the entire waste cycle, starting from the selection and separation steps, through various treatments to recycle the main components (paper, cardboard, plastic, aluminium, glass) up to the production of energy from the organic fraction, to the post-treatment of the materials not appropriate for anaerobic digestion.
IES BIOGAS, thanks to its Research and Development Department and its consolidated know-how, is able to make use of all the technologies available on the market, according to the economic, social, technical and regulatory variables of each individual customer, in every part of the world. IES BIOGAS is a guarantee of a turnkey operation, from preliminary feasibility studies to assistance during the plant's entire life cycle.
Pre-treatment: Organic Fraction of Municipal Solid Waste (OFMSW)
The organic fraction from the separated collection of municipal solid waste is what is significant.
Before the OFMSW [organic fraction of municipal solid waste] is sent for anaerobic digestion, it has to be shredded and subjected to processing to remove any plastics or other unwanted fractions. This treatment will be more or less refined depending on the anaerobic digestion technology downstream of the pre-treatment.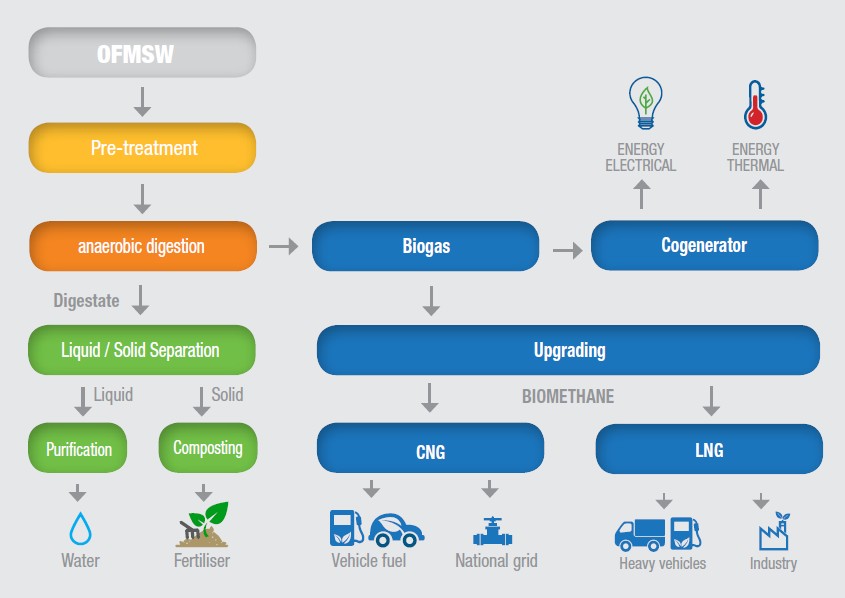 Pre-treatment: Municipal Sold Waste (MSW)
This is waste that has been collected without being separated. In this case, the waste is subjected to a long series of mechanical processing steps to:
separate the dry fraction comprising:
– recyclable materials such as paper, glass, plastics and metals;
– other high-calorific materials suitable for the production of RDF [refuse-derived fuel].
Condition the organic fraction to be sent for anaerobic digestion treatment and subsequent composting.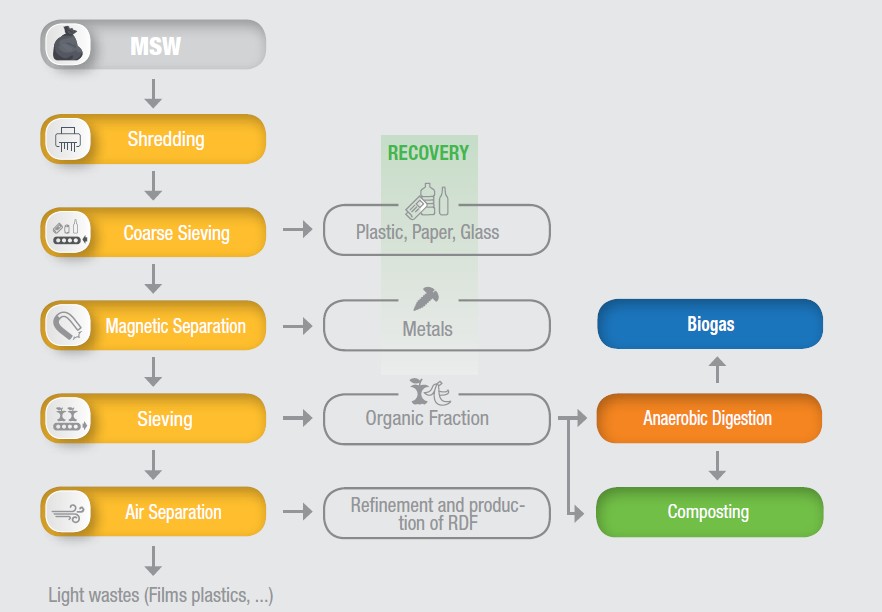 Anaerobic Digestion
Wet Process
In wet processes, anaerobic digestion takes place in CSTR (Continuous-flow Stirred Tank Reactors), heated cylindrical mixing tanks, in an environment characterised by 10% or less dry matter content. This process can be conducted under thermophilic or mesophilic conditions with retention times usually varying between 15 and 30 days.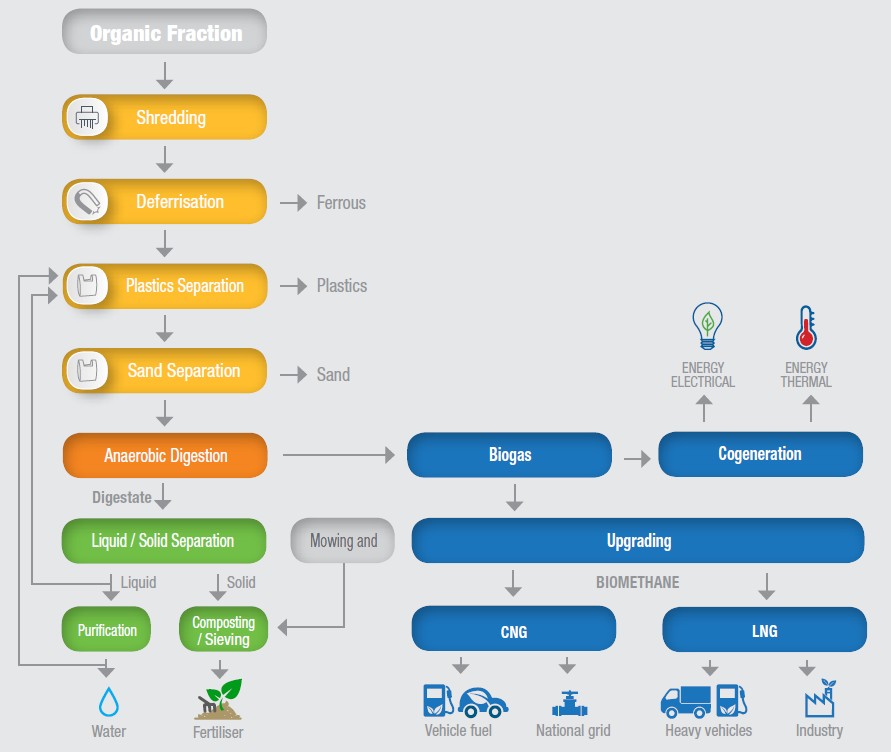 Semi-Dry Process
In semi-dry processes, anaerobic digestion takes place in an environment characterised by a dry matter content of between 20 and 40%, under thermophilic conditions and with retention times of about 15-20 days. These systems are known as plug-flow digesters because the advancement of the biomass is linked only to the input of fresh biomass and the extraction of spent digestate.
In contrast with common opinion, these digesters are NOT mixed; however, they are equipped with a digestate movement system whose sole purpose is to allow the biomass to be heated and the biogas to rise.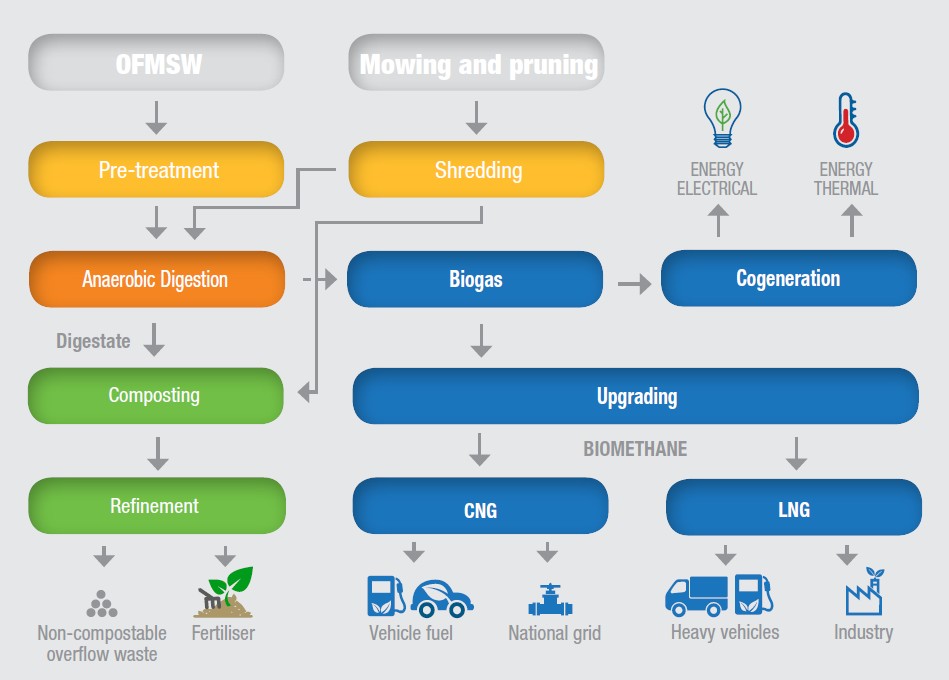 Energy Recycling
According to the circumstances, biogas produced by an anaerobic digestion plant, can be recycled by taking the form of electrical and/or thermal energy, or it can be purified and refined for the production of biomethane. Whatever its intended use, biogas must still undergo desulphurisation and dehumidification treatments to achieve the necessary requirements to initiate the recycling process.
Post-Treatment
The output digestate from the anaerobic digestion plant must undergo additional aerobic treatments in
order to obtain stabilised, mineralised, sanitised and environmentally compatible material. Depending on the anaerobic digestion technology used and the matrices available, the digestate as is, or its semi-solid fraction, is mixed with lignocellulosic (structuring) material and finally sent for composting.
Depending on the operating costs, any liquid fraction is either sent for external processing or treated in situ in a purification plant.