Oslo, Norway – April 2023 – Antec, a global biomethane plant developer and operator company headquartered in Oslo, Norway, is pleased to announce its ambition to be the best possible partner for biomass owners moving into biomethane production. "With Antec taking full responsibility for the development, building and operation of biomethane plants, and also inviting biomass owners in on the plant ownership, we have a setup that is attractive for all parties—one that we believe is the solution to scaling biomethane production in a time where the world is screaming for renewable energy," says Eirik Gundersen, CEO of Antec.
Previously focused on delivering its innovative technology, Antec is now partnering with biomass owners to develop, build and own biogas and biofertilizer production facilities. By throttling up production and minimizing costs, Antec aims to build thousands of efficient, distributed biogas plants—wherever the waste is. Petter Jacob Jacobsen, Antec chief commercial officer, explains enthusiastically: "The feedback from the market was that we needed to provide turnkey partnerships that integrate the value chain all the way from waste to energy. This way is the fastest to unlock the potential for energy production that is inherit in biowaste all over the world."

Pioneering Biogas Technology
Founded in 2014, Antec delivers modular anaerobic digestion (AD) reactors at scale for industries, farmers and communities anywhere in the world. The company's groundbreaking technology transforms biomass into energy and biofertilizer in record time, with documented installations across a wide range of plants.
Antec's pioneering biogas technology mimics a cow's digestive system. Through the combination of plug-flow anaerobic digestion and a high surface area biofilm, bacteria are provided an ideal environment to thrive. The technology's implementation of biodigestion chambers allows for greater control of the process and higher gas yields.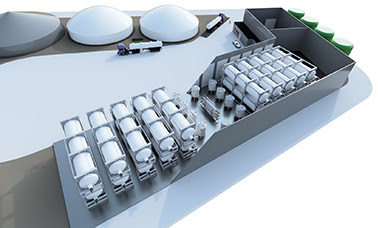 Antec's technology enables scalable production with a higher energy return—three times faster than traditional systems. These closed, odorless systems produce green, cost-effective energy from problem waste, from fish and animal offal to unused agricultural biomass.
One of the company's many successful projects includes RENEVO's facility, the largest commercial biogas plant in western Norway. Located in Stord, the plant processes raw materials from local fisheries, as well as the local aquacultural and agricultural sectors, to produce liquefied biomethane and organic fertilizer. In addition, CO2 captured during the process can be used in the aquaculture and food industries, enhancing the plant's overall value creation. The Renevo plant is equipped with 10 Antec digesters, each of which can treat approximately 5,500 tons of organic waste annually. The facility, which officially opened in May 2023, was highly commended by the World Biogas Association at the AD and Biogas Industry Awards 2023 in the category "Best Biogas Plant Above 1MWe Equivalent."
Adding Value via Biomass Partnerships
Moving forward in its mission to create value from waste, Antec is now offering biomass owners the opportunity to further capitalize on the company's expertise in the biogas energy sector. Its debut partnership under the new offering is with one of the world's largest farmed salmon producers. The new project will utilize Antec's AD technology to process fish ensilage and sludge, as well as cow and chicken mature, into liquid biomethane while simultaneously capturing carbon.
"As the world moves towards a cleaner and more sustainable energy future, distributed energy production is an increasingly important piece of the puzzle," Gundersen says. "This partnership showcases the pivotal role that biogas and biomethane can play in the renewable energy mix of tomorrow. This groundbreaking project marks a major milestone in Antec's journey toward industrialization and scaling, and accelerates our ambition to create our renewable future."
Antec's technology has been tried, tested and robustly documented. The company consistently delivers on promises and is actively seeking partnerships with high energy biomass owners in industries including industrial food waste and food processing and waste water management, located in the U.S., Nordics, France, Germany and elsewhere.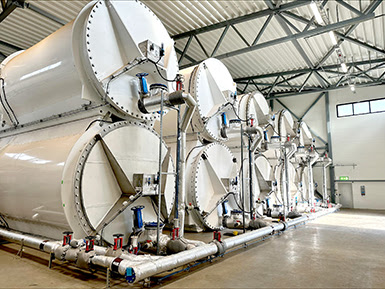 "Antec is a turnkey solution partner that navigates biomass owners through the entire waste-to-energy process," Gundersen adds. "We have extensive experience installing and operating renewable biogas plants, and the knowhow to set up a project for success. We can help you navigate potential risks to ensure a long-term, profitable partnership."
About Antec
Antec is a global energy technology company, headquartered in Oslo, Norway. Its groundbreaking plug-flow biogas technology turns biomass into energy and biofertilizers in record time. Antec delivers modular AD reactors at scale for industries, farmers and communities anywhere in the world. In addition, Antec develops, builds and owns plants in partnership with biomass owners to accelerate renewable energy production
Founded in 2014, Antec has the ambition to create our renewable energy future and is rapidly expanding to international markets. For more information, visit www.antecbiogas.com or follow on LinkedIn.
Contact information
Eirik Gundersen, CEO Antec
Email: eirik.gundersen@antecbiogas.com
Phone: +47 416 15 490
Petter Jacob Jacobsen, CCO Antec
Email: petter.jacobsen@antecbiogas.com
Phone: +47 465 11 709
Mark Little, US Market Representative
Email: mark.little@antecbiogas.com
Phone: (808) 469-7669 or +47 920 84 141