Description
About Naskeo environnement
As a French specialist in the energy recovery of organic materials through anaerobic digestion, Naskeo Environnement offers cost-effective and sustainable solutions that guarantee a complementary source of income and the production of renewable energies (electricity, biomethane and heat).
Since 2005, Naskeo Environnement supports its customers from the exploratory phase to the technical and biological monitoring of the units in operation.
Today, they have 15 years of experience in the construction of anaerobic digestion and they have some 40 biogas plants in operation, both in the dry and in the dry processes.
Research & Development laboratory
Naskeo Environment uses an analytical and research platform located at INRA in Narbonne, the Laboratory of Environmental Biotechnology (LBE), to perform analysis and research in anaerobic digestion. The analysis allow Naskeo Environment to:
Analyze the precise nature and potential for anaerobic digestion of specific organics
Follow up with the biological monitoring of an anaerobic digestion unit
Measure the methane content of biogas
Guarantees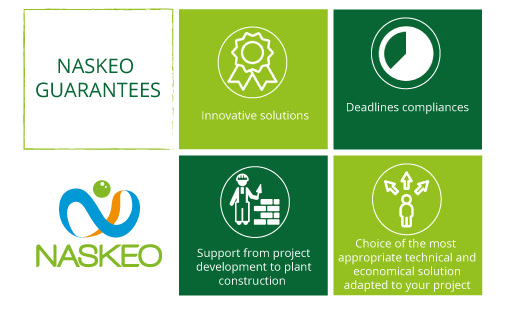 Expertise
Naskeo is expanding its knowledge in the development, design, construction and maintenance of biogas plants to enable treatment, waste disposal and guarantee of renewable energy production through biogas upgrading.
Naskeo's technologies are adapted to any feedstocks
Manure
Farming by-products
Agrofood industry wastes
Organic household wastes
Green wastes
Sludges
Naskeo offers every types of biogas valorization
Electricity production with CHP unit
Biomethane production with upgrading unit
Gas bottling combined with upgrading unit
Heat production with boiler
Naskeo offers enhanced digestate management
Expert in agricultural sciences
Optimal digestate reusing through efficient spreading
Digestate drying
Carbon footprint
For more information, visit Naskeo Environnement's website.