Description
About GHD
The Power of Commitment.
GHD recognizes and understands the world is constantly changing. We are committed to solving the world's biggest challenges in the areas of water, energy and urbanization. We are a global professional services company that leads through engineering, construction and architectural expertise. Our forward-looking, innovative approaches connect and sustain communities around the world. Delivering extraordinary social and economic outcomes, we are focused on building lasting relationships with our partners and clients.
Established in 1928, we remain wholly owned by our people. We are 10,000+ diverse and skilled individuals connected by over 200 offices, across five continents – Asia, Australia, Europe, North and South America, and the Pacific region.
Our Expertise
Your challenge is our challenge, and your world is our world. GHD's globally connected network of world-class engineers, scientists, architects and researchers work together to provide a range of professional and technical services suited to rise to the occasion.
We support your business or community with the design of transportation, buildings, or water systems, and we can also leverage our environment and geosciences expertise to ensure your assets, both natural and built, are protected. And our Project Management professionals work across all sectors to deliver these projects successfully.
We have considerable experience in delivering landmark Energy and Resources projects, and are working diligently to help our clients transition to Future Energy sources that best suit their needs.
More recently, GHD has grown to offer Advisory services that can help you make thoughtful business decisions that protect your assets and your community, even in the face of disruption. Similarly, our Digital team can revolutionize the way you do business by digitizing and streamlining your tools, systems, and protocols.
Future Energy
Having worked in the energy transition area for well over a decade, we have an established team focused on working with clients to decarbonise energy systems. At GHD, we call this client service offering Future Energy, with key strengths in the following interconnected focus areas:

Hydrogen Energy
Energy Systems Integration
Bioenergy/Biofuels/Renewable Natural Gas
Oil & Gas Decarbonisation
Energy Security & Reliability
Energy from Waste
Carbon Capture & Storage
Decarbonisation of Transportation
Water Sector Energy Transition
Renewables Plus
Climate Change & Carbon Accounting
Renewable Natural Gas
Turning waste into usable, clean energy is driving policy changes at all levels of government and providing incentives to private industry. Developing renewable natural gas (RNG) from waste reduces the environmental impacts of the waste itself as well as the emissions it can generate.
GHD has leveraged its extensive experience in biogas-to-electricity projects to take a leading role in the emergence of the important RNG market. We have supported numerous public and private clients with RNG projects, and a range of biogas sources, with services including:

Feasibility studies, including life cycle cost and analysis
Permits and approvals
Public consultation and liaison
Engineering studies
Conceptual and preliminary design
Detailed balance of plant design
Tail gas management
Contractor procurement and management
Construction oversight
Our technical and financial consulting services support the development of sustainable solutions using a triple-bottom-line approach that considers environmental, economic, and social considerations for each project.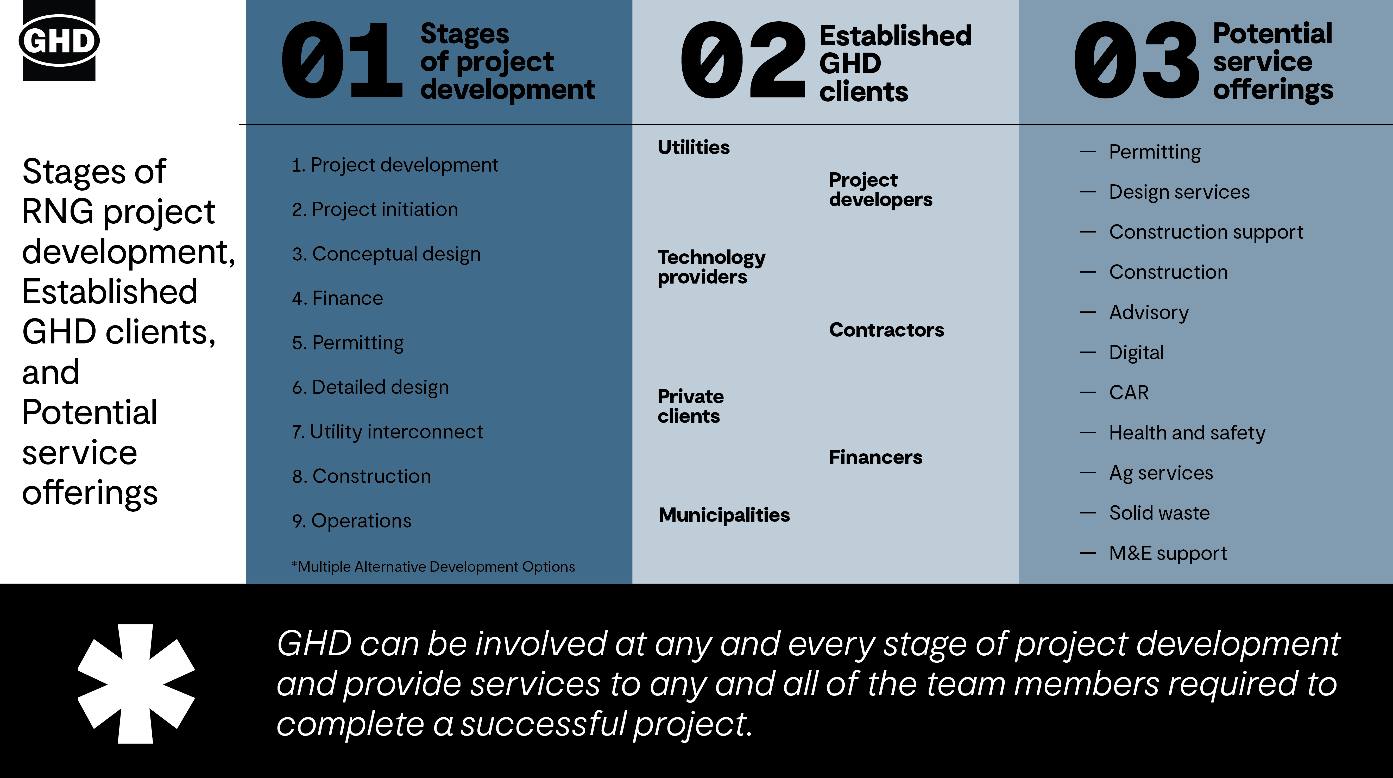 We balance these factors while also considering the full range of challenges and risks on the viability of each RNG project. This allows our team to identify the best technology with the lowest risk to achieve the purification of biogas/ landfill gas. GHD also has specific knowledge of RNG technologies available on the market, has assessed those technologies, and has relationships with the technology providers, which allows us to expedite projects.
For more information, please contact Marie-France Gravelle at Marie-France.Gravelle@ghd.com.