Product Description
The BioCNG™ system uses a patent-pending biogas conditioning system to economically produce biogas-based fuel to power CNG vehicles. BioCNG™ easily adapts to smaller-scale biogas-to-CNG alternative vehicle fuel projects. The economics of past small scale systems had often proved unfavorable, primarily because of the large capital and operating expense associated with cleaning and conditioning the biogas. BioCNG™, with its simple modular design, has been able to address these issues and produce a low cost RNG vehicle fuel.
BioCNG has received the U.S. Environmental Protection Agency's (EPA) prestigious Landfill Methane Outreach Program (LMOP) Project of the Year Award for innovative technology.
BioCNG™ Conditioning and Fueling System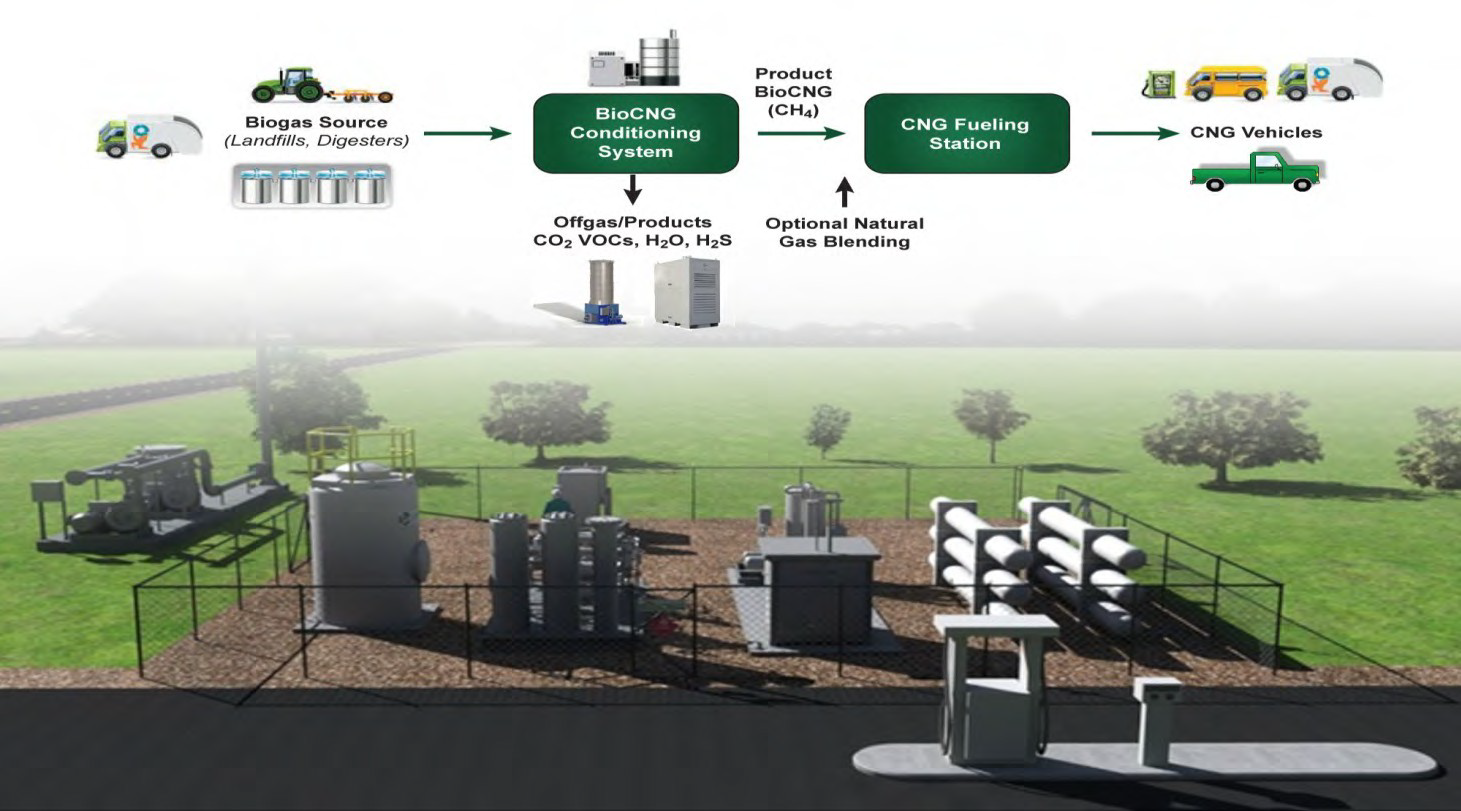 BioCNG, LLC offers various standard sized units that produce up to 2,400 GGE per day. Multiple units can be installed for larger projects and higher production rates.
The primary BioCNG™ components include:
• Treatment to remove H2S
• Treatment to remove VOC's and siloxanes
• Treatment to remove CO2
• Filters to remove particulates
• Chillers to reduce moisture
• System controls, compressors, valves and pressure regulators
BioCNG™ Standard system information
| | | | | |
| --- | --- | --- | --- | --- |
| BioCNG™ System | Biogas Inlet Flow | Fuel Production | Small Truck Fleet | Large truck Fleet |
| BioCNG 50 | 50 scfm | 200 – 300 GGE/day | 20 – 27 trucks/day | 2 – 4 trucks/day |
| BioCNG 100 | 100 scfm | 375 – 600 GGE/day | 38 – 55 trucks/day | 5 – 8 trucks/day |
| BioCNG 200 | 200 scfm | 775 – 1200 GGE/day | 77 – 110 trucks/day | 11 – 17 trucks/day |
| BioCNG 400 | 400 scfm | 1500 – 2400 GGE/day | 150 – 240 trucks/day | 21 – 34 trucks/day |