Sweden, a pioneer in NGV and BioNGV vehicles, reiterated its goal  to become the first country to abandon fossil fuels in transportations by 2030, in April 2018. Its energy transition is already well underway: for several years, Sweden has been putting the use of biogas and biomethane as green fuels in the forefront to achieve its goal. By what means? Policies for NGV and BioNGV, major investments to boost the market, subsidies and tax exemptions for those choosing this type of fuel, among others. The results speak for themselves: in 2017, more than 55,000 NGV vehicles were on the roads in Sweden, compared to just a few hundred in 2000. In addition, Sweden achieved the targets set by the European Union for 2020, that being to use 10% of renewable energy in transport. The countdown towards energy transition continues for Sweden. In the coming years, Sweden intends to optimize its policies and implement other structuring actions. Here is an overview of the market for NGV and BioNGV vehicles in Sweden and its various catalysts.
A look at biogas and biomethane in Sweden 
First, the majority of biogas in Sweden is produced from sewage sludge, landfill gas or cogeneration plants. Most of the biogas, or 64% in 2016, is upgraded for use as fuel for vehicles.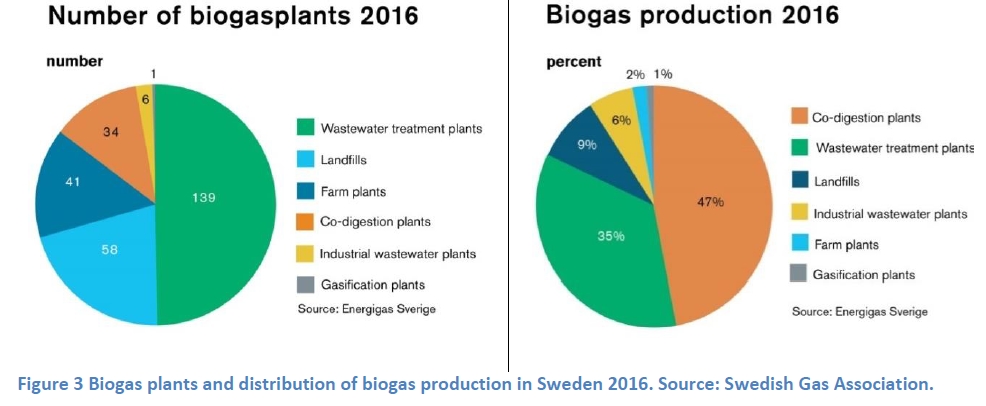 Here are some other highlights to better understand the market:
According to Energigas, 86% of the fleet of NGV vehicles ran on biogas
More than 170 fueling stations distribute NGV or BioNGV
The cost of producing and distributing biomethane as fuel is around 0.06 to 0.13 € / kWh according to a 2013 study
There are 279 biogas plants in Sweden producing a total of 2018 GWh
Biomethane is mostly distributed through local and regional grids, independent biogas plants and charging stations
The import of biomethane, especially from Denmark, is growing: it reached 0.155 TWD in 2016.
Energy transition in Sweden: € 345 million in investments
Sweden has launched a program to invest in local and regional efforts to reduce GHG emissions in 2015. Since then, it has invested a large part of the € 345 million granted in the installation of NGV and BioNGV in local public transport vehicles and charging stations throughout Sweden.
Today, more than 30 municipalities use biogas or biomethane vehicles for their public transport systems, including buses and taxis. For example, in Kalmar County, all buses run on fossil fuel-free fuel, 60% of which is biogas from farmyard manure. To learn more, watch this video about biogas in Kalmar, Sweden.
In the spring of 2018, Sweden unveiled a new budget announcing an investment increase of € 0.14 million for the current year.
Exemption from taxes on biomethane as fuel 
The tax exemption for green fuels such as biomethane, valid until 2020, is one of the cornerstones of the policies for NGV and BioNGV in Sweden. It is a leader in this sector since it has imposed a carbon tax since the 1990s.
This tax is based on the "polluter pays" principle and varies according to the proportion of CO2 present in the type of energy used. In 2016, Sweden also increased the tax on diesel and fuels with fossil fuels.
By driving with biomethane as a fuel, citizens save from € 68 / MWh to € 21 / MWh. Visit the Swedish Government's carbon tax webpage for more information.
In addition, until 2018, owners of new vehicles with low GHG emissions benefit from an exemption from annual taxes for the first 5 years. However, as of this year, in 2018, a new bonus-malus system will replace it.
Towards a 100% green transport sector 
In May 2017, the Swedish Energy Agency presented a new fossil-free transport strategy. The government will therefore gradually introduce new policies to promote NGV and BioNGV vehicles in Sweden by 2019, in particular.
Grants totaling € 3.1 million for biomethane producers
In April 2018, in its latest budget, Sweden announced grants totaling about € 3.1 million for the production of biomethane from green and agricultural waste. This financial assistance will be available until 2020.
So far Sweden has mainly supported users of NGV and BioNGV vehicles. Through this program, the government wants to reduce imports of fossil fuels by 2030, and imports of biofuels by 2050
New Bonus-Malus system from July 2018
As of July 2018, Sweden will adopt a new Bonus-Malus system for all new passenger vehicles, small buses and trucks in the country. The goal is to encourage the purchase of vehicles that emit less GHG emissions.
Thus, consumers will enjoy a bonus of up to about € 5700 on the purchase of vehicles with no emissions. Buyers of vehicles running on either gas fuels will receive around €  950 more.
With the purchase of diesel or gasoline vehicles with significant GHG emissions, consumers will have to pay a higher carbon tax for the first 3 years. Check out the International Energy Agency's summary for more information on the new Bonus-Malus system.
Areas for low emission vehicles in Sweden
By 2020, Sweden wants to allow municipalities to set up restricted areas for NGVs, BioNGVs and other vehicles with low emissions. To access certain areas, vehicles will have to meet certain GHG emission requirements.
For example :
Class 1 and 2 zones will be accessible for compression-ignition and spark-ignition vehicles if they comply with the Euro 5 or 6 standard.
Class 3 zone will only be accessible to electric vehicles or those running on hydrogen or gas if they comply with Euro 6 standards.
Visit the Low Emission Zones page on the Swedish Government website for more information.
Great  business opportunities in NGV and BioNGV in Sweden are coming!
The potential of biogas and biomethane as biofuels in Sweden is well established. The NGV and BioNGV policies of the government lay a solid foundation for the years to come.
The next goals for Sweden? Set up a national biogas strategy, encourage biogas production in the country to reduce imports, establish a biogas registry and guarantees of origin, among others.
Leader suppliers in NGV and BioNGV
Several companies occupy an important place on the NGV and BioNGV market through the world.
For example :
ANGI is a leader among suppliers of CNG refueling equipment for NGV. It designs and manufactures systems for these vehicles and truck-trailer tubing for customers around the world.
EBI specialized in providing services for natural gas vehicles. EBI also manages a network of public compressed natural gas (CNG) refuelling stations in Quebec, Canada.
Hexagon provides composite high-pressure vessels and systems for storage and transportation of compressed natural gas and biomethane, among others. Hexagon also offers all composite Type 4 cylinders.
BiogasWorld is a business partner of choice to accelerate your projects. Do not hesitate to contact us to find out how we can help you with your NGV and BioNGV project!
To know more :