The third edition of our yearly Showcase Report is now available for everyone to download for free. The report features the latest successful projects of BiogasWorld members across the world.
Our goal is to promote biogas and biomethane technology suppliers and services providers on the market and showcase how their expertise can be a valuable asset to your own project.
Whether you are a newcomer to the industry or already an expert, choosing the right technologies for your project can be challenging and time-consuming.
Our Showcase Report 2021 has been designed to introduce you to these technologies and services, presented in a short description highlighting their results and benefits. You will get a glimpse into which technologies and services are currently offered in the biogas and biomethane market all over the world. It is an excellent resource to help you take strategic decisions.
You can download the Showcase Report 2021 below.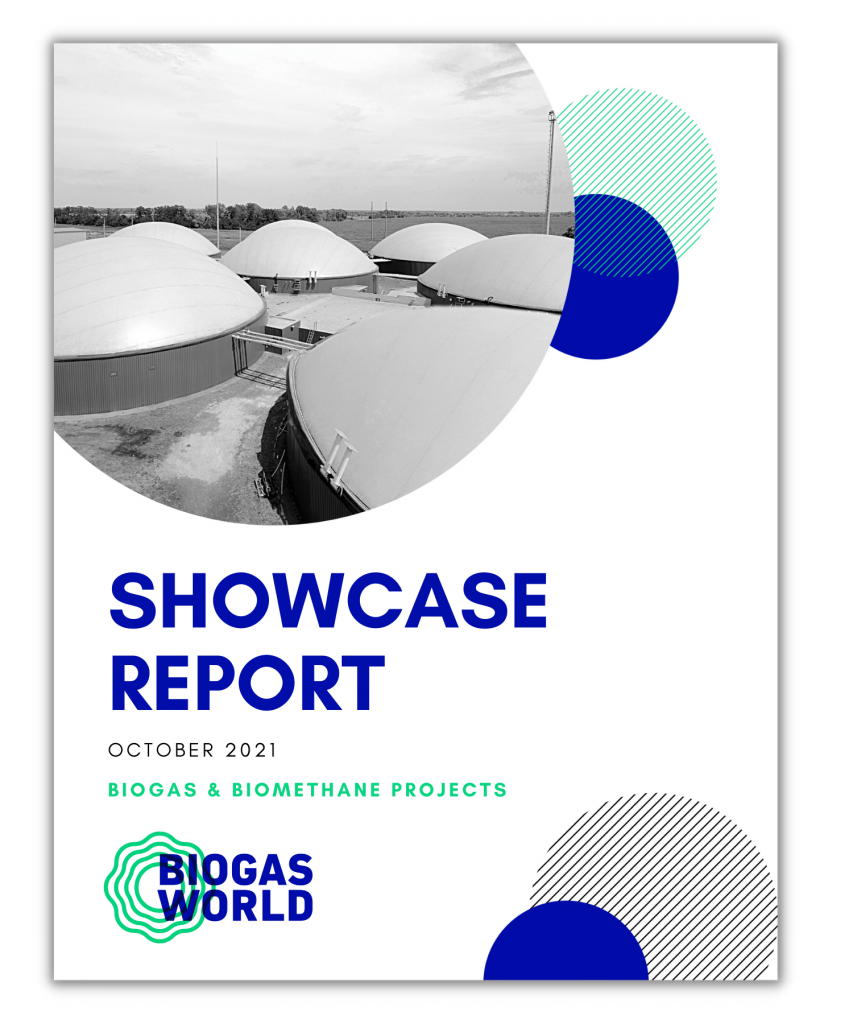 Showcasing successful projects from experienced suppliers
This year's report includes:
Profiles of more than 70 projects in North & South America, Europe and Asia.
Over 50 project developers and service providers in the biogas and biomethane industry.
Concrete and recent examples of products and services applications.
Contact information of featured developers and suppliers.
Featured technologies suppliers and services providers
Our Showcase Report 2021 highlights biogas and biomethane technologies suppliers and services providers in various fields of applications, such as agriculture, wastewater treatment plants, industrial facilities and more.
All featured projects and products have been listed under six categories: biogas systems, small-scale systems, biogas upgrading, biogas pretreatment, equipment and services.
We would like to thank all of our members for their contribution, thus making this report possible:
Bauer Compressors, Fournier, Hach, Sebigas, Waga Energy, Xebec, Bioenergy Devco, Blackhawk Technology, Bright Biomethane, BTS Biogas, DMT Clear Gas Solutions & DMT Environmental Technology, Drycake, Evonik, Fitec, Greenlane Renewables, Hibon, HoSt, IES Biogas, iNex Circular, Krieg & Fischer Ingenieure GmbH, Leyline Renewable Capital, MRU Instruments, Paques, Prodeval, Profire Energy, Tank Connection, Veolia Water Technologies, Wartsila, WELLE (n-bio and HEEE), Adicomp, Ammongas, Antec Biogas, Azura Associates, Biogest, Bioprocess Control, Boerger, CCM2 Architectes, GasTechno, Gazpack, GHD, GraniteFuel Engineering, Green Service Europe, H2Flow, Mapro International, Methania, Obsidian Engineering, Pompaction, Promindsa, SNC-Lavalin, Streisal, Symbiont and Unison Solutions.