Anaerobic digestion is a series of biological processes in which microorganisms break down biodegradable material in the absence of oxygen. Biogas consists mainly of methane (CH 4) and carbon dioxide (CO2).
Anaerobic fermentation process to produce biogas production occurs in two phases (HoSt):
Hydrolysis phase: Transformation of organic matter into CO2, hydrogen and fatty acids.
Methanogenic phase, in which fatty acids decompose to become methane.
A stable anaerobic fermentation process meets the following requirements
Proper mixing
Continuous process of feeding the digester with organic matter and removing the processed matter
Appropriate conditions such as temperature, pH, N balance, etc.
There are two main types of anaerobic digestion processes for treatment of biodegradable wastes: wet anaerobic digestion systems which use organic material with consistency of 10–20% dry matter or less and dry anaerobic digestion systems for organic matter with consistency of 20–>40% dry matter or more. Thus, the choice whether to use dry or wet digestion for the fermentation of the organic depend dry matter content.
Advantages and disadvantages of dry anaerobic digestion as compared to wet anaerobic digestion
Dry Digestion in full-scale application can be performed in a continuous or discontinuous system. Dry digestion is called discontinuous because biogas production is sequenced with loading and unloading phases. Several digesters will operate in parallel and allow a constant production of biogas over time.
Dry anaerobic digestion is an alternative solution to wet anaerobic digestion in order to optimize the value of manure. In fact, a wet anaerobic digestion plant is quite limited for the treatment of dry matter-based substrate. Dry anaerobic digestion systems allow the use of substrates with a high content of crop residues, household waste and livestock manure.
Here are some features and advantages of dry anaerobic digestion:
Dry matter / total solids 20-40% compared to 20% maximum for wet digestion
Low power and heat needs
Very tolerant system for contaminants (sand, fibres, large particles, etc.)
Possibility of mobile biogas plants (containers)
Management of several digesters simultaneously
Less critical equipment (pumps, agitation systems, feeding equipment)
Production of land-applied solid digestate similar to manure
Low amount of water
Less maintenance required
Less complex system compared to wet AD systems
Use of various substrates per unit of digesters
Disadvantages:
Special technologies for loading and unloading of the digester are necessary
Need to manage the variation of biogas and heat production
Not totally mixed
In discontinuous systems, the microbial process has to start for each batch
In many cases, lower methane yields compared to wet AD systems
In many cases, large quantities of structure material is required (a lot of digester space is consumed for structure material)
Success criteria for dry anaerobic digestion projects
Sufficient substrate (at least 2,000 tonnes of manure)
Space available for the plant construction (at least 600 m² just for digesters)
Possibility to use heat in a nearby facility
Advantages and disadvantages of wet anaerobic digestion
There are good reasons to process dry biomass in a wet digester. The main advantage of wet anaerobic digestion is that it allows for the optimal mixing and thus high biogas production. Investment and operating costs are lower than those in dry anaerobic digestion system. Dry matter fermentation in a wet digester presents the risk of separation between the inert particles that flow and lightest that remain on the surface.
Advantages of wet anaerobic digestion as compared to dry digestion:
Greater flexibility in the materials to be treated
Low investment and operating costs
Integrated biological desulphurization
Wet anaerobic digestion presents the following constraints:
Need to add liquid to reduce the dry matter of the mixture
Requires robust and costly mixing equipment
Significant energy requirements of the facility to run pumps and agitators
Lower dry matter content for the digestate
Production of wet digestate that can modify practices for land application and lead to additional investments (slurry tankers)
It is recommended to use a dry anaerobic digestion system when the introduced biomass contains more than 10% of sand or a large quantity of non-degradable materials such as synthetic materials. This is the case for green waste (> 20% sand) and some household waste. (HoSt)
Comparison of anaerobic digestion processes (Collective Farming Grouping)
Costs
Dry anaerobic digestion facilities are a bit more expensive than wet anaerobic digestion facilities. For small plants, it is about 500,000 to 1 million Euros. The largest part of the investment is spent on the civil engineering and the concrete structures. The investment varies widely depending on the materials used.
BiogasWorld's clients offering wet and dry anaerobic digestion systems
NASKEO ENVIRONNEMENT – Wet and dry digestion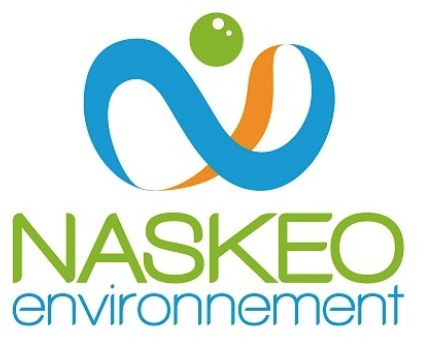 Founded in 2005, Naskeo is a French and independent company with more than 12 years of experience in project development from 100 kWél to 2 200 kWél, in France and abroad.
Naskeo is expert in designing, constructing and commissioning biogas plants under the technologies called "wet process" or CSTR (Continuous Stirred-Tank Reactor) and  "dry batch process". Naskeo Environment has more than 40 turnkey projects under construction or operation and 50 projects in development.
The technology called "wet process" is dedicated to feedstock mix below 20% DM (dry matter). The technology called "dry batch process" is dedicated to feedstock mix higher than 28% DM (dry matter). It can be adapted to feedstock quantities from 5 000 to 30 000 t/year.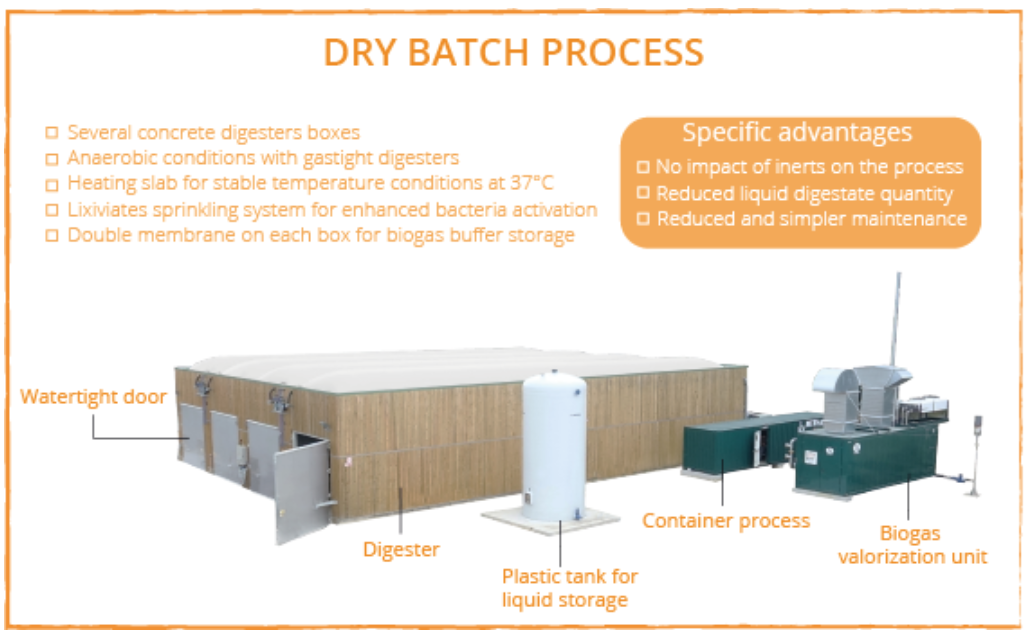 To know more about Naskeo and its technologies
ELIOPIG – Wet digestion

Eliopig s.r.l. is a company founded in 1980 by engineers with extensive experience in the design, production and construction of biogas/biomethane plants, nitrogen reduction plants and livestock equipment for pig and cattle farms.
The range of biogas plants is variable depending on the customer needs; the installed electrical capacity can vary from 100 kWe up to 1000 kWe and more.
The two main sections that distinguish the OFMSW biogas plants from those ones supplied with slurry and by-products, they are:
The waste pre-treatment section, where the waste is cleaned from impurities and mashed in order to be anaerobically digested;
After the biogas plant, Eliopig is able to transform the digestate into soil improver through the realization of a composting system.
To know more about Eliopig and its technologies
BIOFERM – Wet and dry digestion

BIOFerm is based in Madison, Wisconsin and has industry expertise in design, engineering, construction, operation and management of turnkey biogas projects.
Offered by BIOFerm, COCCUS® is a complete mix anaerobic digester that is operated at the mesophilic temperature range. It is designed for input materials with a low solids content (between 8 – 12%).
EUCOlino is a small scale (1000 à 6500 tons per year) dry digestion system for any organic substrates with over 25% TS.
To know more about BIOFerm and its technologies
BIOGEST – Wet digestion
BIOGEST is a European biogas plant manufacturer with its headquarters in Austria and subsidiaries in the UK, Italy, Romania, Serbia, the Czech Republic and the US. Our biogas engineering operations extend along the entire biogas value chain, from project development to planning, financing, turnkey construction and operation of biogas plants with an output of 100 kW to 3,500 kW.
The PowerCompact system is an economic 1-stage biogas plant with a power output of 100 kW to 250 kW. The PowerCompact system has been especially developed for dairy farms, and can operate with a 100% slurry substrate. The design is based on a reinforced concrete tank with a double membrane gas storage facility on top.
The BIOGEST PowerRing is a highly efficient, 2-stage biogas plant which is suitable for operation with almost all substrates. Power output ranges from 250 kW to 2,000 kW and a biomethane production of 80m³/h to 500m³/h. The design is based on an external main digester and an internal post-digester. The BIOGEST PowerRing draws on an extremely low proportion of the power it generates thanks to the agitator technique, feed in system and overall design. The plant is completely automated and controlled via a user-friendly operating system.
PowerRing and PowerCompact biogas plants have been operating successfully for more than 10 years, installed at over 100 reference plants.
To know more about BIOGEST and its technologies
HOST – Wet digestion

HoSt is one of the leading suppliers of turn-key biogas plants in Europe. HoSt has supplied a large number of agricultural biogas plants, mostly for the anaerobic digestion (AD) of manure and agricultural products (e.g. corn, straw and grass) in combination with waste from the food industry.
Unique about a biogas plant supplied by HoSt, is the large flexibility for a broad range of biomass streams. The use of a flexible input system and an intensive paddle mixing technique in combination with special propeller mixers.
Characteristic for the farm-type plants supplied by HoSt is that they are equipped with concrete, isolated tanks, furnished with a double membrane roof. The solid feeding input is equipped with vertical augers.
BEKON MINI dry fermentation system offers dry fermentation in a minimal space, low capital and operational expenditures, especially suitable for low input quantities ƒand effective decentral electricity and heat generation.
To know more about HoSt and its technologies
To find more companies and products in wet and dry anaerobic digestion, visit our Products section.
Add your company for free in our catalog!
BiogasWorld is growing and we are inviting you to grow with us. BiogasWorld is accepting company listings for our 2018 Biogas Industry Catalog that will be available to our clients in 2018. Add your company for free and receive messages from your potential clients via our platform.
____________________________
To know more
BIO Thorey: Comparaison méthanisation agricole : voie sèche, voie humide