The fourth edition of our Showcase Report is now available for everyone to download for free. This year's report features over 65 successful biogas and biomethane projects from BiogasWorld members around the world.
From biogas systems to upgrading solutions and cutting-edge equipment, our report offers a glimpse at technologies and services currently offered in the industry.
What's inside?
Over 65 projects featured, including biogas systems, biogas upgrading solutions, biogas pretreatment technologies, equipment and services.
Successful applications of biogas technologies in more than 20 countries around the world.
Contact information for all 50 project developers and equipment suppliers showcased.
With this document, we aim to promote biogas and biomethane technology suppliers and services providers on the market and showcase how their expertise can be a valuable asset to your own project.
You can download the Showcase Report 2022 below.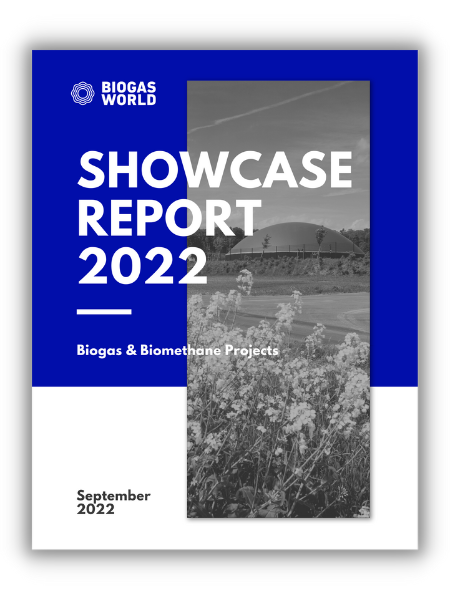 We would like to give special thanks to all participating companies who shared information with us:
AB, Adicomp, Ammongas A/S, Anaergia, Anka Yenilenebilir Enerji, anessa, Antec, Association québécoise de la production d'énergie renouvelable (AQPER), Azura Associates, Bauer Compressors, BGasTech, Bio-Dynamics, Botres Global, Bright Renewables, BTS Biogas, CEM Engineering, DMT Clear Gas Solutions & DMT Environmental Solutions, Evonik, Fitec Environmental Technologies Inc., Fournier Industries, Gazpack, GraniteFuel Engineering, Greenlane Biogas, Hach, H2Flow Equipment Inc., HoSt, IES Biogas, Krieg & Fischer GmbH, Membrane Systems Europe, MRU Instruments, Panametrics (Baker Hughes), Paques, Pentair, Prodeval, Promindsa, Pyro Green-Gas, Schumann Tanks, Sebigas, Sentry, Streisal GmbH, Sysadvance, Terravest Renewables, UBE, UGN-Umwelttechnik GmbH, Unison Solutions, Veolia & Biothane Solutions, Waga Energy, Xebec and ZwitterCo.
If you wish to showcase your own project or have any questions, feel free to contact us at info@biogasworld.com.