What biogas and biomethane equipment suppliers and service providers to choose for your project? Whether you are developing a new project or looking to find ways to improve the performance of an existing one, this is probably a question you are asking yourself. Here are 17 experienced suppliers with a proven track record and examples of their key projects.
You assessed the feasibility of your project, the quantity and composition of your feedstock, planned the processes you will need to treat them, amongst other things? You probably now know what equipment or services you will need for your project.
Find the right biogas/biomethane equipment supplier or service providers
There are many companies active on the market, located all over the world. The companies all offer unique equipment and services in the biogas and biomethane industry. This is why it is important that you know the specifications of your project, your needs and your budget.
Afterward, it will be easier for you to do advanced research at the market to find the best supplier or service providers. For example, you can find information about the kind of products and services available and their technical specifications to verify if they could be a good fit for your project. Moreover, reading about successful projects will give you a good idea of concrete applications for their equipment or services and if they would meet your needs.
To help you find information, here is a glimpse into successful projects by proven biogas or biomethane equipment suppliers and service providers.
Examples of successful projects by suppliers
Biogas Systems
Several of our members offer complete biogas systems, such as the following.
Rialto Bioenergy Facility – Anaergia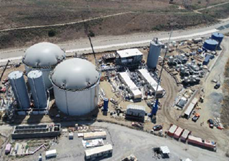 Located in Rialto, California, USA
Largest organic waste digester facility in North America
Biogas system Is designed, built, owned, operated, and financed by Anaergia
Métha Vie Project – Naskeo Environnement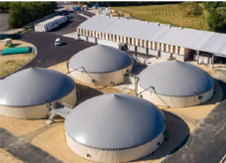 Located in France
Territorial project owned by a group of farmers
Mix of feedstocks: 70% of animal manure, 30% of other organic wastes, used water or wastewater treatment sludge
The Be'erot Yitzhak Plant – SGTech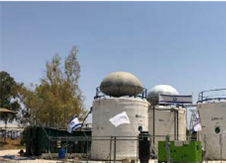 Located in Kibbutz Be'erot Yitzhak, Israel
30% higher clean energy production and +90% nitrogen removal
Approach feasible even for medium-sized farms
O-PARK1 Waste Treatment – Suez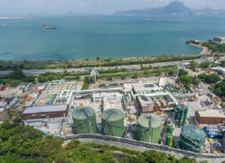 Located in Hong Kong, China
First food waste treatment facility in Hong Kong
Treatment capacity: 83,000 tons/year of food waste from restaurants and food production facilities
Fréjus Reyran WWTP – Veolia
Located in Fréjus, France
1st site in the Var department to produce and inject green gas into the network
MemGas™ system helps injecting 6,000 MWh/year of RNG (biomethane) into the gas grid
Biogas upgrading systems
Moreover, many of our members offer biogas upgrading systems to convert it into biomethane (or renewable natural gas).
AIMAG SSO Facility– Xebec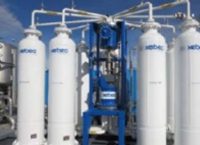 Located at Modena, Italy, the AIMAG SSO facility is one of the first industrial biogas upgrading systems in Italy.
Xebec was able to adapt the standard of their PSA system to meet European and Italian standards, codes and markets. It enabled AIMAG's customer to deliver the upgrading plant quickly and start injecting biogas into the network.
Glacier Ridge Project – Air Liquide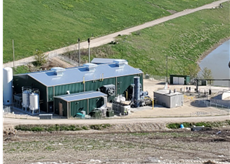 Located in Horicon, Wisconsin, USA
Utilizes Air Liquide-owned and patented biogas upgrading systems and their nitrogen removal technology
Biomethane production capacity: 500,050 mmBTU/year (147Gwhr/year)
Wisconsin Series – DMT Solutions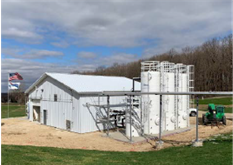 Located in Wisconsin, USA
Feedstock: dairy manure
Gas injection for all farms goes through one centralized injection point using a virtual pipeline
Enersi Sicilia – IES Biogas
Located in Caltanisetta, Sicily, Italy
Input: organic fraction of municipal solid waste – 36 000 t/year
Biomethane used to fuel about 2,550 waste collection vehicles
METHAMOLY, Circular Region – Prodeval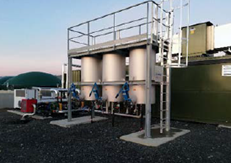 Located at Saint-Denis-sur-Coise, France
Local inputs: Manure, agro-industrial and slaughterhouse by-products, food waste, organic waste from supermarkets and sludge
RNG utilization: domestic, industrial, mobility
Baudelet Environment Group – Waga Energy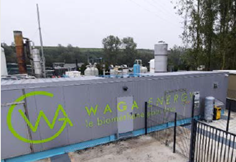 Located in Blaringhem, France
Eco-Parc handles one million tonnes of waste every year
Unit capacity: 25 GWh/year
Other biogas and biomethane equipment companies for your plant
Finally, a lot of our members participated in showcasing their equipment such as biogas compressors, biogas analyzers and digester tanks.
Biogas compressors – Clover Hill – BAUER Compressors
The farm is located in Campbellsport, Wisconsin, USA, and is part of the Wisconsin series by DMT Clear Gas Solutions. The project entails processing biogas feedstock from dairy manure into pipeline quality gas.
BAUER supplied the rotary screw compressors which feeds the biogas conditioning systems at Clover Hill Dairy. The plant capacity is 225 SCFM (360 Nm3/h).
Dairy Biomethane to Pipeline – ANGI
Located in Midwest, NY & CA, USA
Cost-effective compression systems with highly flexible automated output control designed for loading transport trailers at dairy farms
Deployment of several systems since 2018
SWG 100 Biogas Analyzers – MRU Instruments
Located in California, USA
Flexible biogas analyzers able to meet the requirements of the California Resource Board
Measure methane (CH4) every 15 minutes
Flagship Digester Tank – Schumann Tanks
Located in Korskro, Denmark
Size: 7x 2,54M gallon anaerobic digester tanks with 78.44ft of diameter and 69.12ft of height
Each digester tank equipped with 1 vertical mixer
Biogas engineering companies– Agriculture and agri-food project – Bahler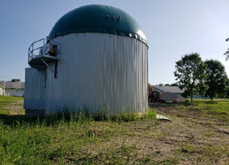 Located in Lennoxville, QC, Canada, this small-scale project for agriculture and agri-food industry aims to research and establish the feedstock mixes and production processes. The goal is to maximize the production of biogas through treatment of the organic waste. Bahler Biogas was the main technological contributor for this project and is responsible for the supply of equipment, construction and plant commissioning.
Orange County Project – Element Markets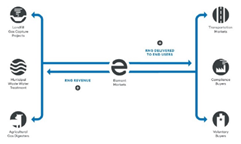 Located in Orange County, California
Delivers renewable fuel and generates revenue for fleet operator while reducing fleet emissions
Simplifies the low carbon transition of fleet operators
To see other successful projects of experienced suppliers, download our Showcase Report 2020 HERE.