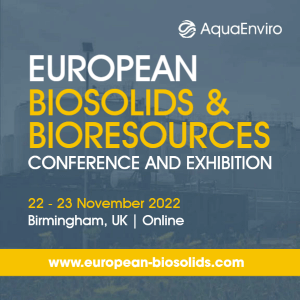 European Biosolids & Bioresources Conference & Exhibition
Event Date

From 2022-11-22 to 2022-11-23
Event language
English
Europe's leading event for bioresource and biowaste processing

BIOGASWORLD SPECIAL OFFER
10% registration discount for BiogasWorld members and subscribers.
Description
Join 250+ attendees from across the globe at the 2022 European Biosolids & Bioresources Conference
The conference provides an essential annual update on the latest innovations, best practice, cutting-edge technology and research in bioresources and biowaste processing.
Why Attend?
- Two full days of high-quality talks from industry-leading professionals and practitioners
- A rich diversity of over 200 attendees from the bioresource and biowaste processing sector
- Ample networking opportunities (2+ hours per day) for informal exchange of news and ideas, and building relationships
- An exhibition hall showcasing the latest technologies and services
- A fun and relaxed evening at the conference dinner – not to be missed!
- A display of novel research posters, plus the Student & Young Professionals' Poster Award Competition
With 50+ speakers spanning a wide range of technical sessions, the event programme offers something for everyone with an interest in bioresources and biowaste processing.

BiogasWorld members and newsletters subscribers can redeem a 10% discount on registration.