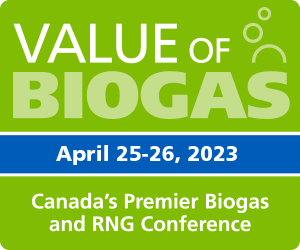 2023 Value of Biogas East Conference
Event Date

From 2023-04-25 to 2023-04-26
Event language
English
2023 Value of Biogas East Conference
Description
2023 Value of Biogas East will be a two day in-person event, with a full conference agenda including a variety of biogas & RNG presentations and engaging speakers. Both days of the conference will provide sponsors and exhibitors with ample opportunities for networking and building new connections.
A call for abstracts will be issued in Winter 2022, and a preliminary program for the 2023 Value of Biogas East Conference will be posted in early 2023. Stay tuned!
After a year of record-breaking attendance, sponsorship, and exhibitor expo, the 2023 Value of Biogas East is anticipated to attract about 350 in-person attendees comprised of biogas & RNG developers involved in agricultural and municipal sectors including landfill, waste management and wastewater, product and service technology companies, government policy makers, utilities, investors, academics, and more!