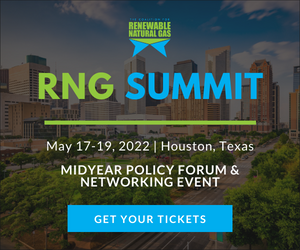 RNG Summit 2022
Event Date

From 2022-05-17 to 2022-05-19
Event language
English
Midyear Policy Forum & Networking Event

Description
RNG SUMMIT
- the North American RNG industry's annual Midyear Policy Forum and Networking Event - will be held in Houston, TX and is being expanded by a full program day (Tuesday, May 17 - Thursday, May 19) at
Le Méridien Houston Downtown
.
A capacity crowd (and waitlist) attended last year's RNG SUMMIT, which featured live updates from RNG Coalition staff & Advisory Board Chairs regarding State Policy Advocacy and Public Education efforts, with virtual, federal updates from the White House, key Congressional Offices in the U.S. House and Senate, and from the U.S. EPA.
Leadership Advisory Boards (LABs) will also meet during morning sessions (May 18-19).
100 registrants will also be invited to network during the Houston Astros vs. Texas Rangers ballgame at Minute Made Park (May 19).
Early Registration is OPEN. Secure your Host or Sponsorship today!