Description
About Efacec Environment
Efacec is a Portuguese company that exists since 1905. They offer turnkey technological solutions for mechanical waste treatment and sorting, and for organic waste treatment with biogas production, upgrading and liquefaction, and compost production. Efacec is committed to transforming waste into a valuable resource to improve the life of the people and make the world more sustainable. Efacec has an international presence in over 65 countries and is known as one of the largest industries in its country.

Waste Treatment System Technologies
Efacec offers different types of waste treatment system technologies such as:
Mechanical Treatment and Sorting of Solid
Waste: Mechanical and Sorting Treatment Solutions for MSW and Recyclables
Mechanical and Biological Treatment of Waste:Solutions for MSW/Organic/Agricultural Treatment
by Anaerobic Digestion, with Biogas Valorisation(Electrical and Thermal Energy Production or Upgrading and Liquefaction) and by Aerobic Composting for Quality Compost Production.
Refuse Derived Fuel (RDF) Systems: Solutions for RDF Production from Municipal/Industrial Solid Waste
Biogas Valorisation Systems: Biogas Valorisation from Landfill and from Anaerobic Digestion for Electrical and Thermal Energy Production, Upgrading and Liquefaction. Landfill Sealing and Biogas Field
Projects of reference
See the below examples of what Efacec is capable of in the waste sorting and the biogas production/valorisation industry.

Waste Sorting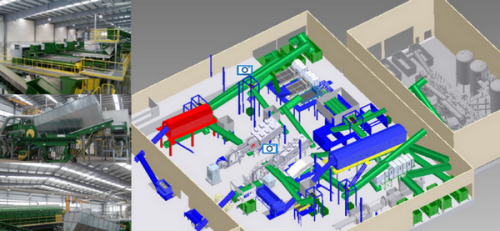 WasteServ – Malta
This project is a waste sorting plant with a capacity of 66.000 tons/year of municipal solid waste and 47.000 tons/year of bulky waste. This plant also produces biogas by anaerobic digestion with a capacity of 2.1 MN3/year.
Watch the video HERE to learn more about the plant.


Valorlis – Portugal
Efacec managed the design, construction, supply and installation of the Valorlis sorting plant, that has a treatment capacity of 10.000 ton/y of plastics and metal. At Valorlis, Efacec also managed the design and build of an MBT plant from MSW to produce biogas through anaerobic digestion with a capacity of 3.2 MNm3/year.
Watch the video HERE to learn more about the plant.


Biogas Production and valorisation

Korskro biogas plant
An AD plant located in Denmark. Feedstock used includes slurry, industrial waste, fat and glycerine and grass silage and energy crops. The plant produces 37 million Nm³ of biogas per year and uses a thermophilic anaerobic digestion system.